Dreamy Embroidery with Amina : Learn the Art of Creating Charming Needle Painting Pieces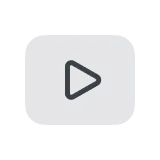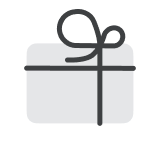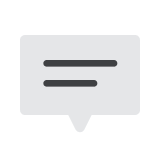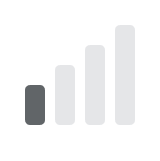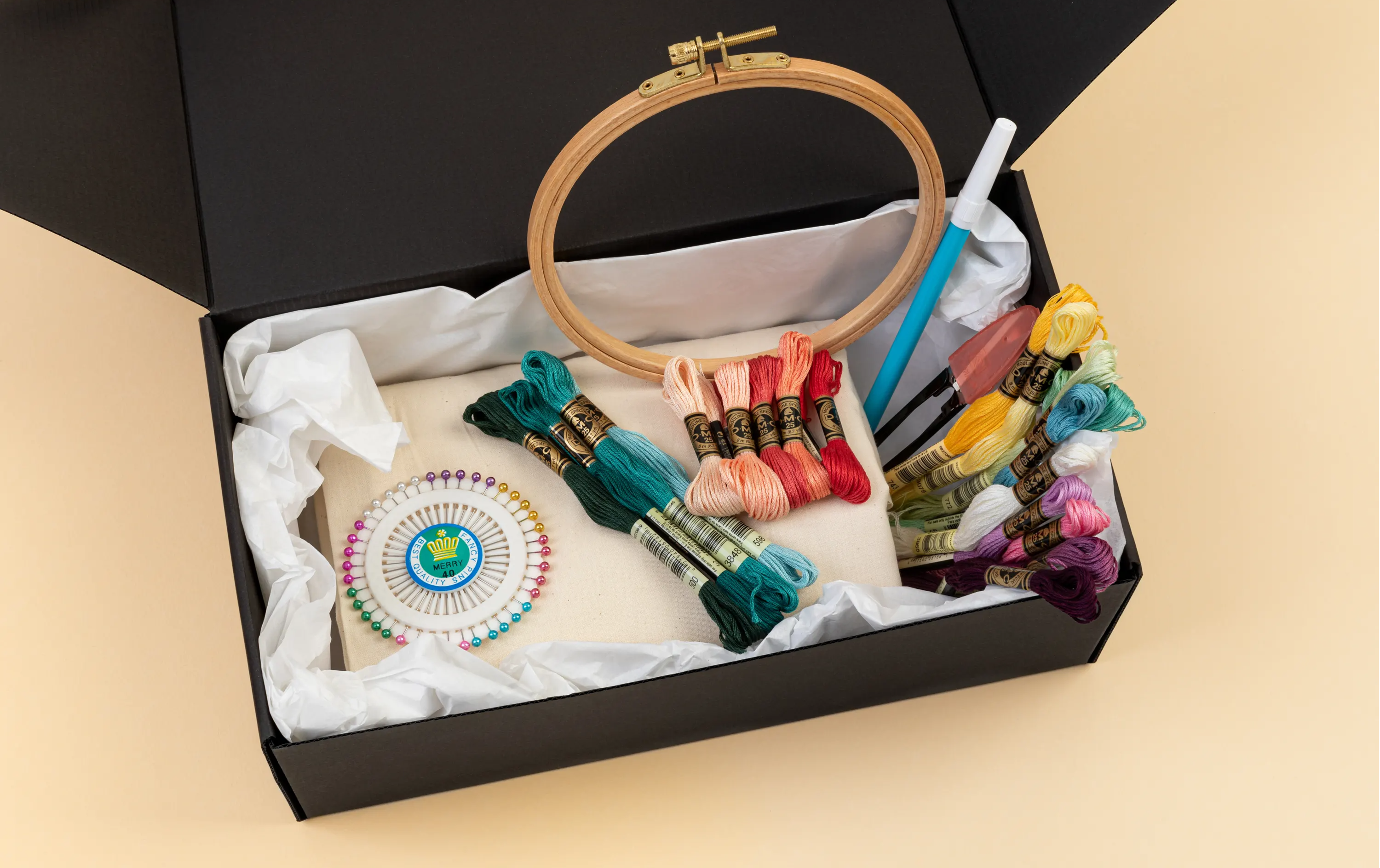 Meet the All-in-One package hand-picked by Amina and CLASS101!

---
* IMPORTANT NOTICE *
Please note that class materials are subject to change depending on availability of the product. Should a specific product be unavailable at the time of your order, a different, but similar item will be included in the package as replacement.
1. Hoop 15cm (5.9inch)
2. Fancy Pins 40
3. K-wan scissor
4. Water erasable pen
5. Embroidery Needles
6. DMC 6-Strand Cotton Floss
7. Cream colored cotton sheet
WHAT IS THIS CLASS ABOUT?
Are you a hand embroidery enthusiast? In love with all things lovely and charming? I think we are perfect for each other! Together let's go on a journey of learning hand embroidery from the very basics to the advanced techniques and work on some cute projects along the way. As a self-taught embroidery artist, I realize that learning on your own can be tough and confusing, so let me ease the task and share with you all the knowledge and tips that I've accumulated through the years.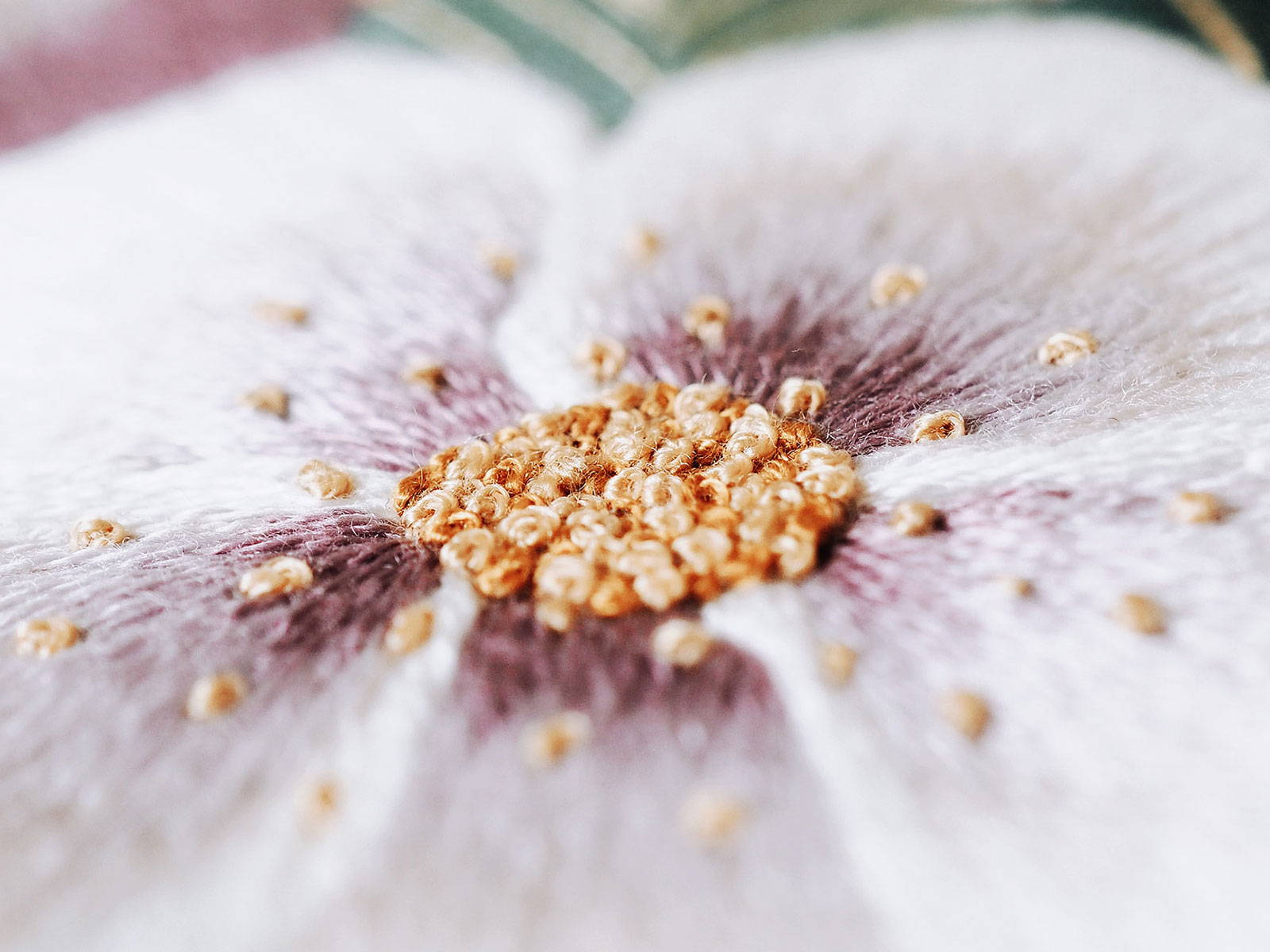 This course is for anyone who enjoys the art of hand embroidery and wants to learn how to express themselves through this medium. I will provide step-by-step explanations for all the stitches and uncover the secrets of needle painting to ensure you get amazing results from the start to the end.
WHAT WILL THE STUDENTS ACHIEVE?
By the end of this course, you will have a solid knowledge of hand embroidery basics, as well as a clear understanding of how needle painting works. You will have completed several projects along with my guidance and have accumulated the necessary practice and skills to create your own embroidery designs.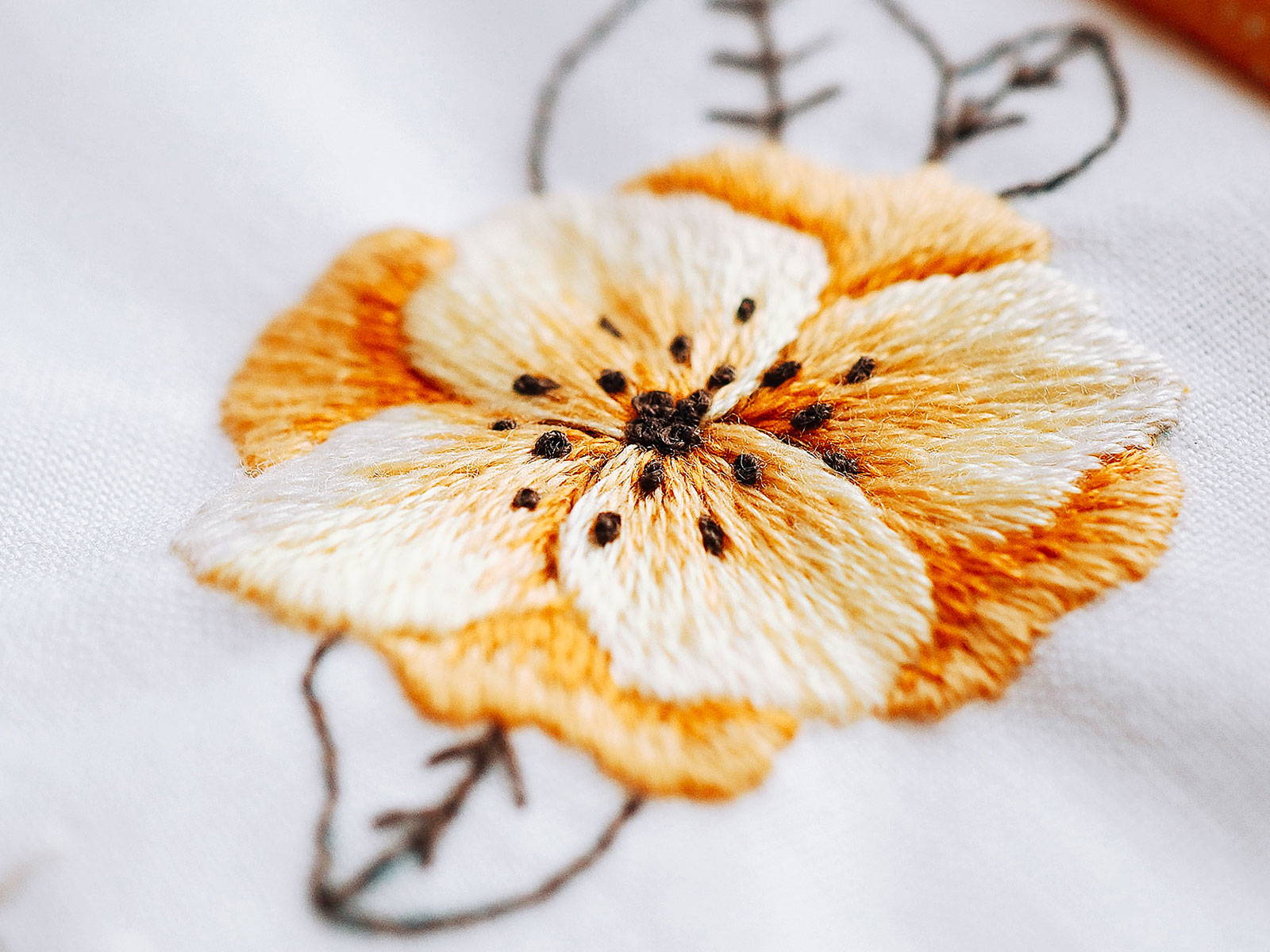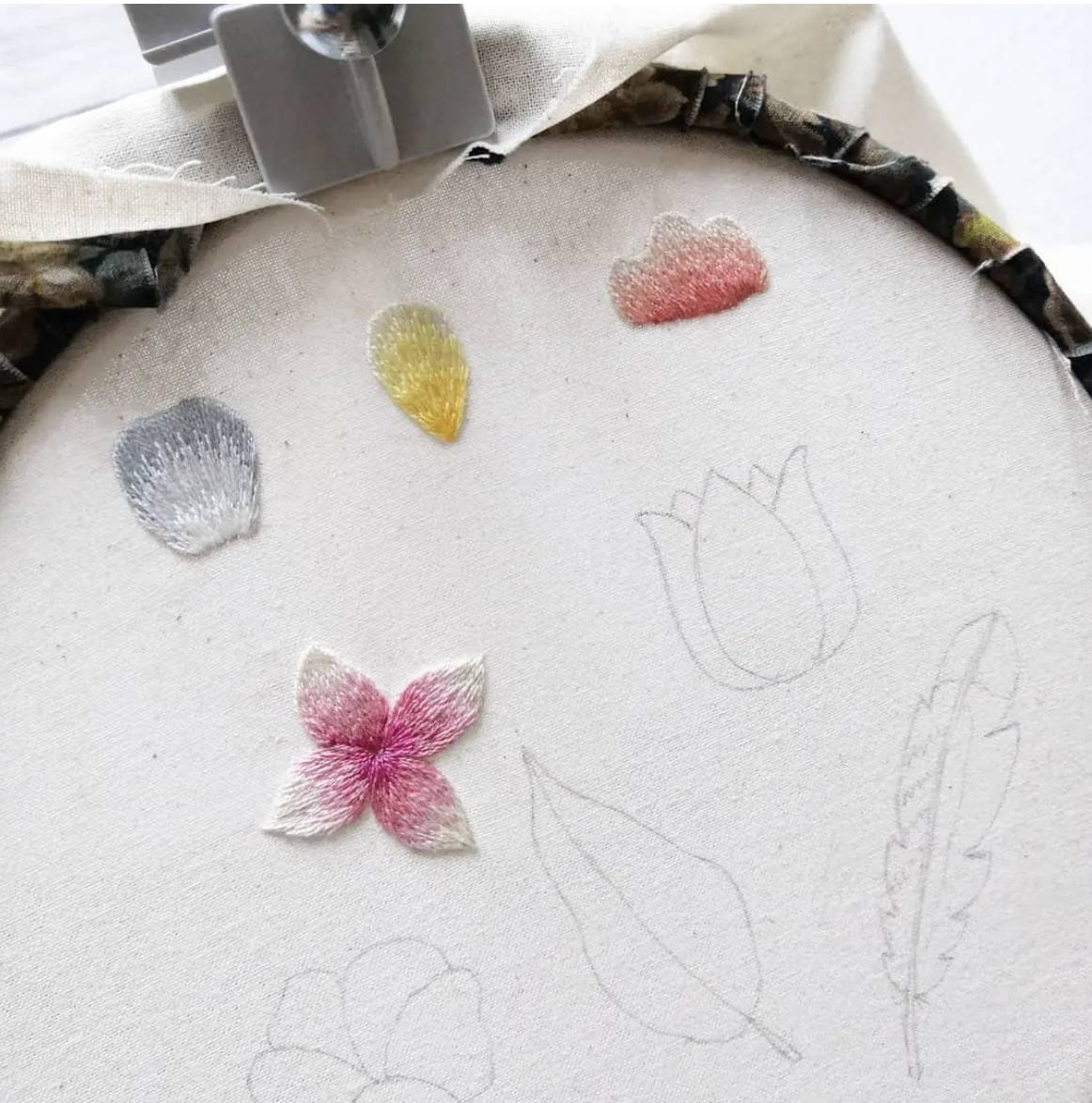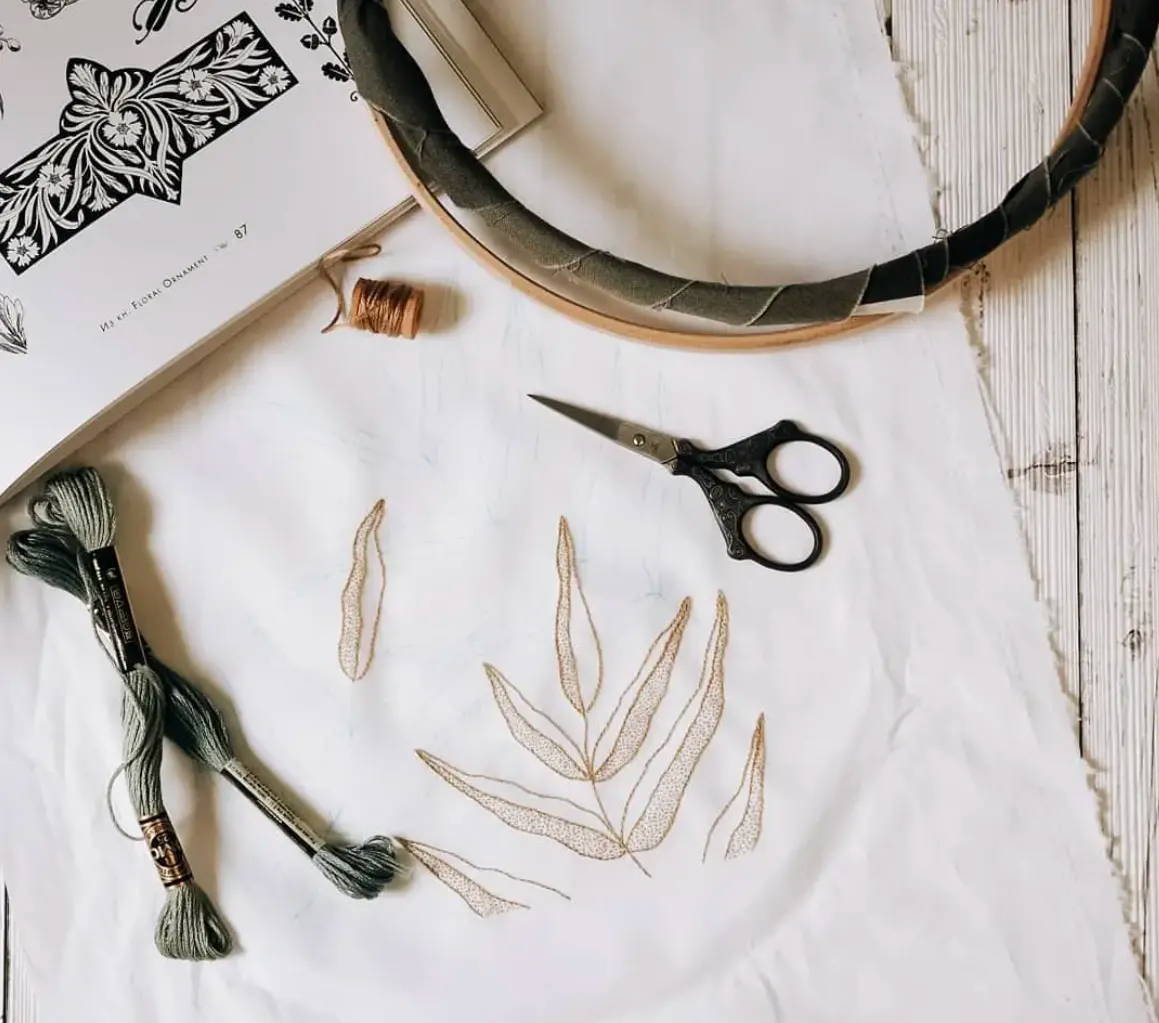 How to Blend Colors Beautifully in Embroidery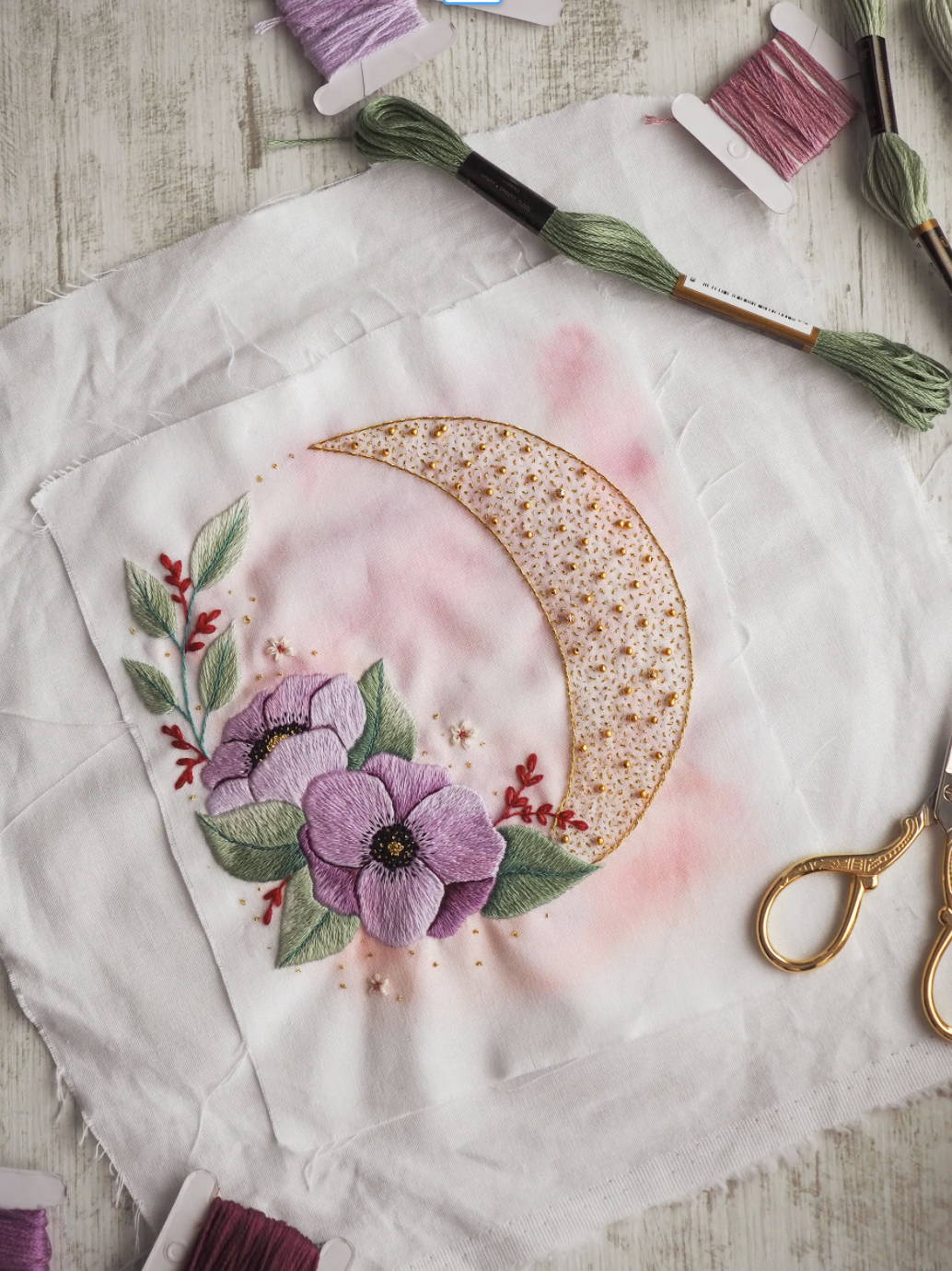 Enhance Your Skills Through Stitching Captivating Florals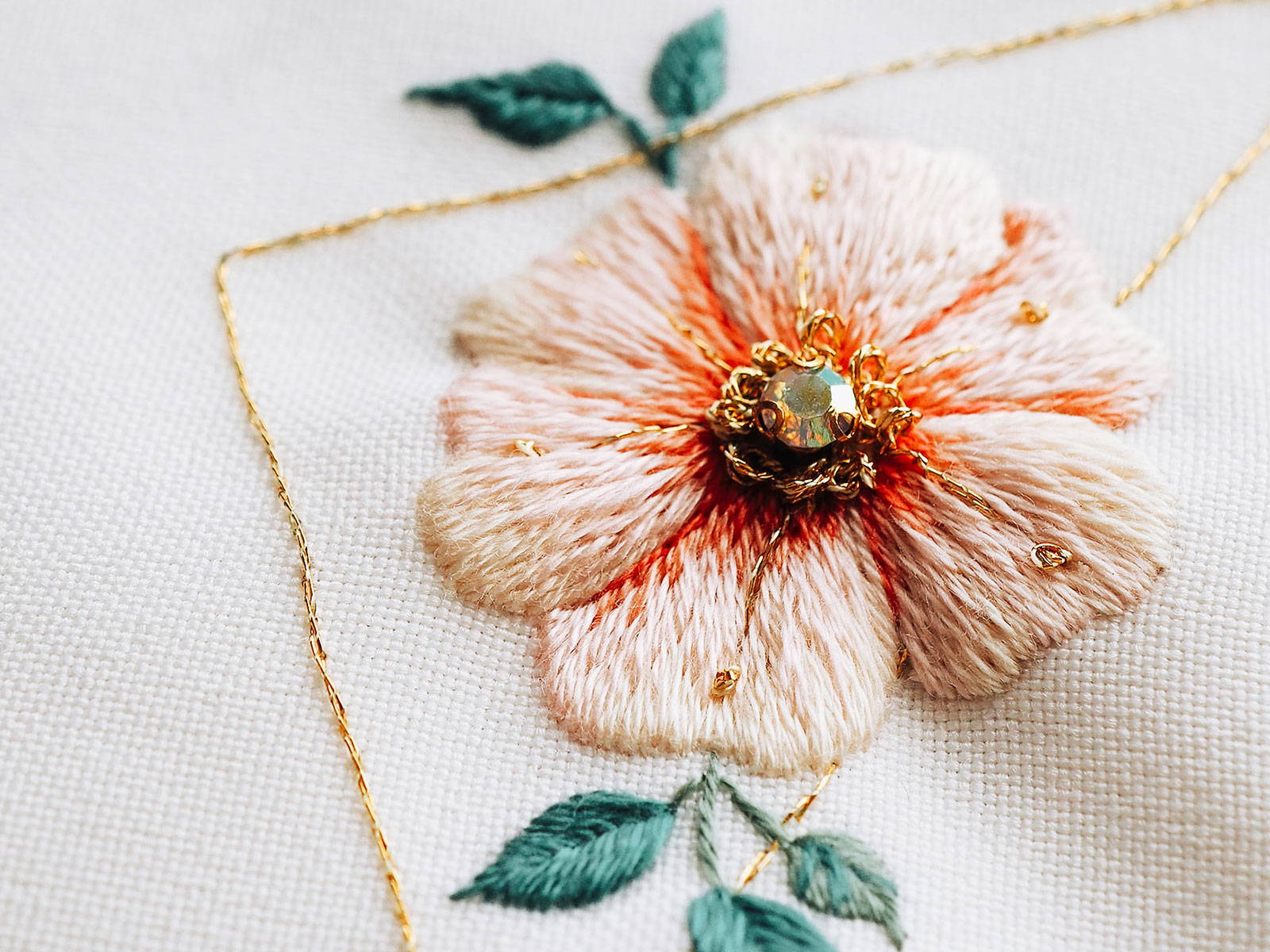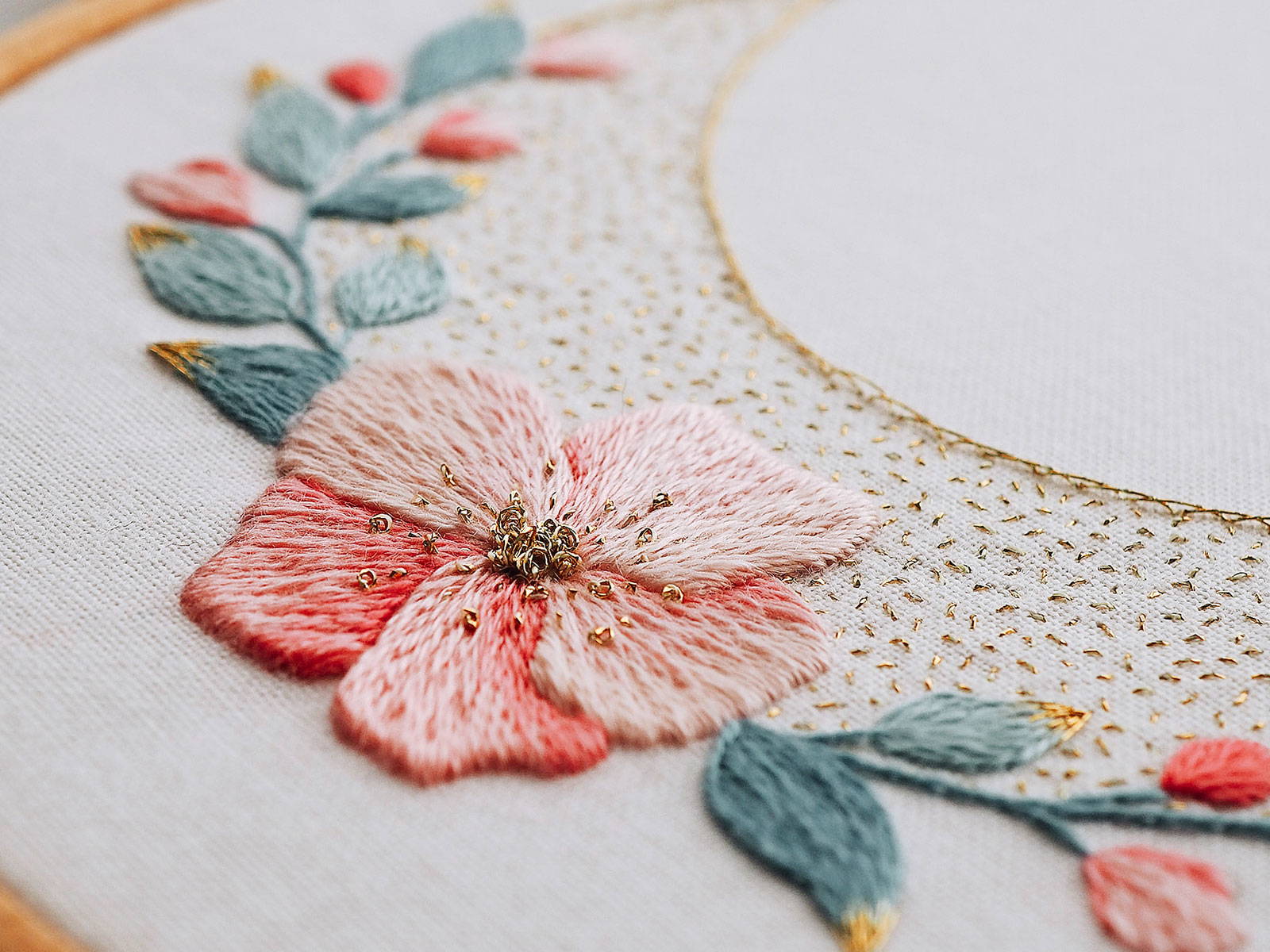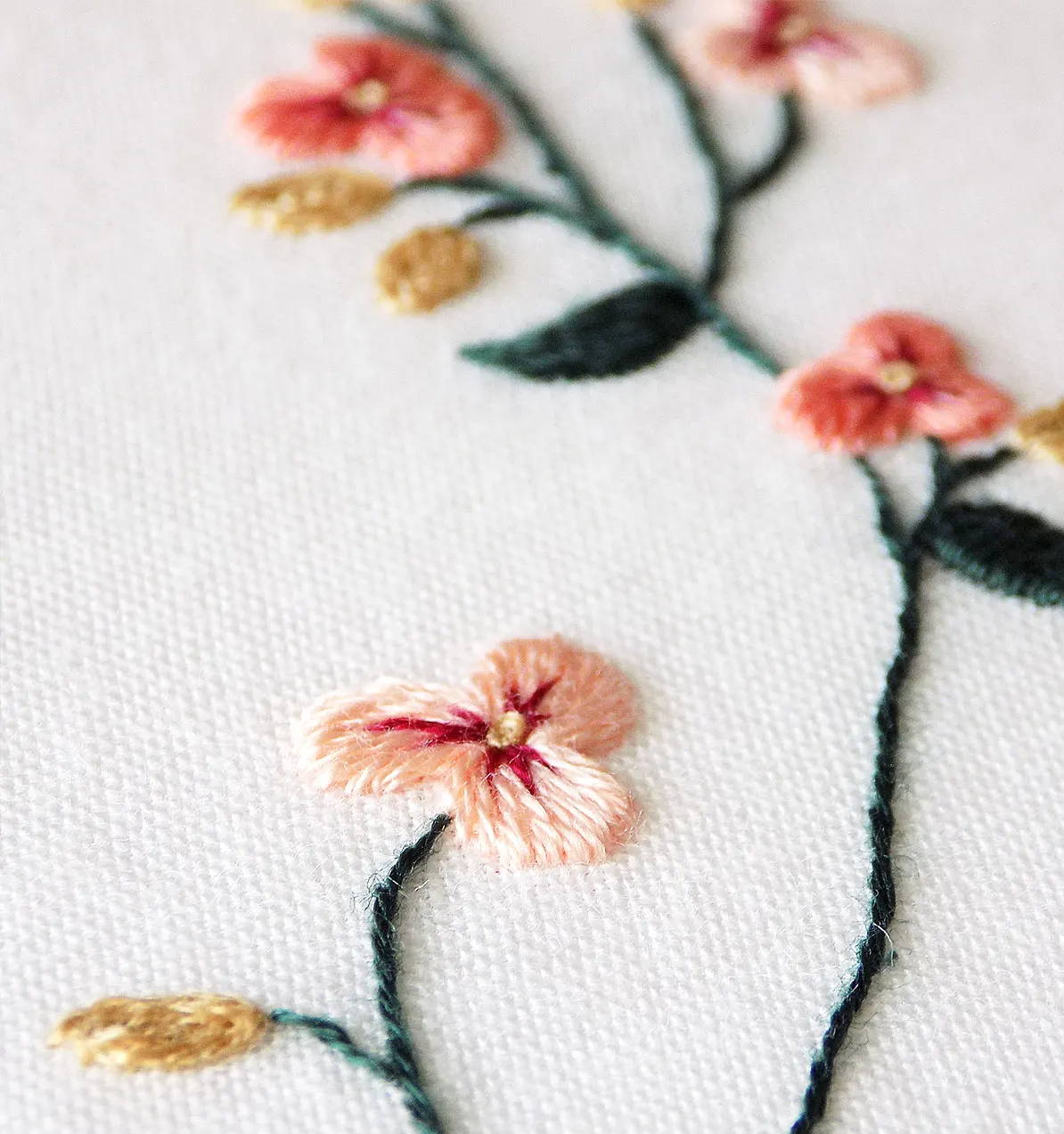 Step 1: Hand Embroidery Basics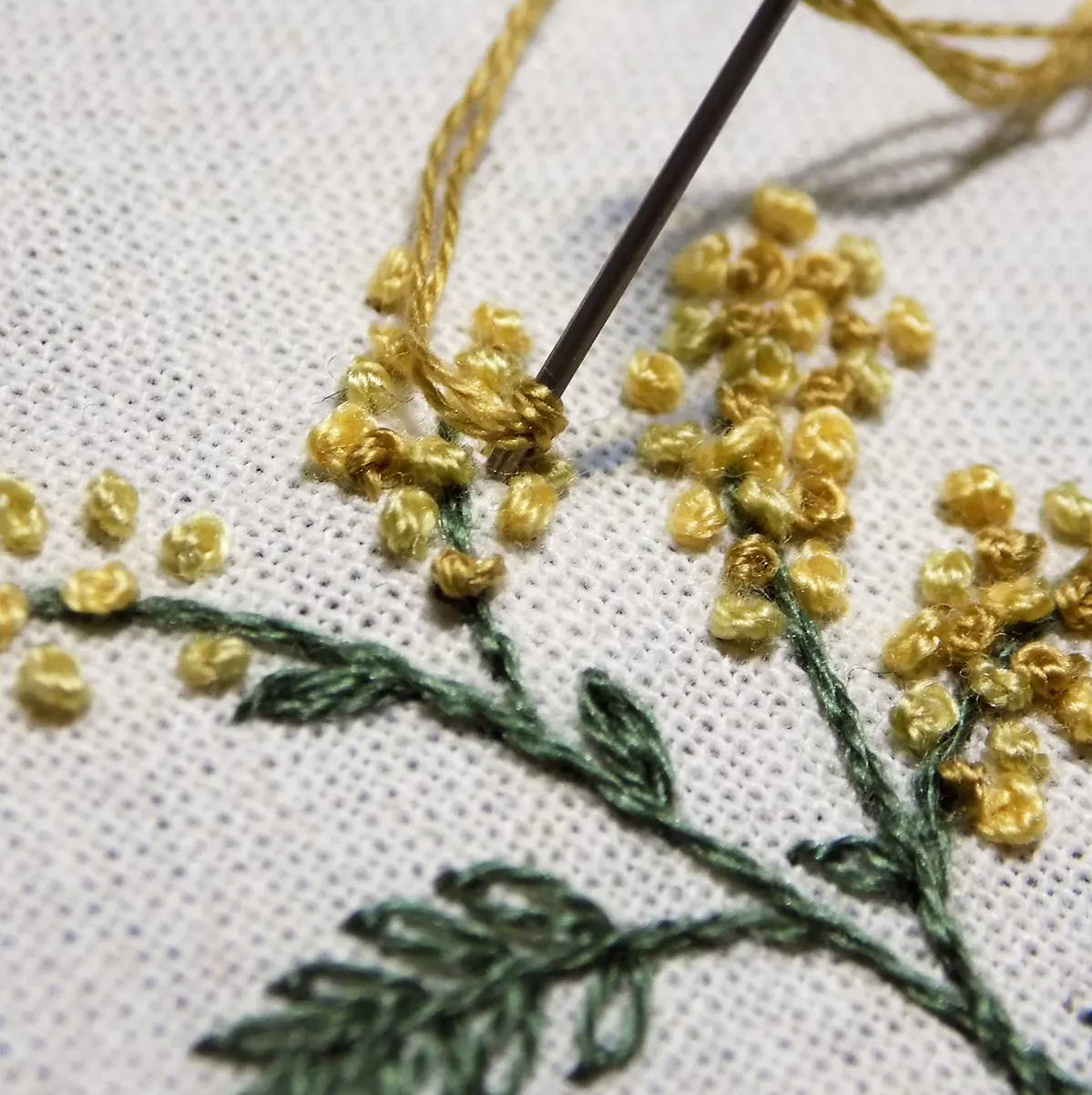 Step 2: Practicing Forms of Stitching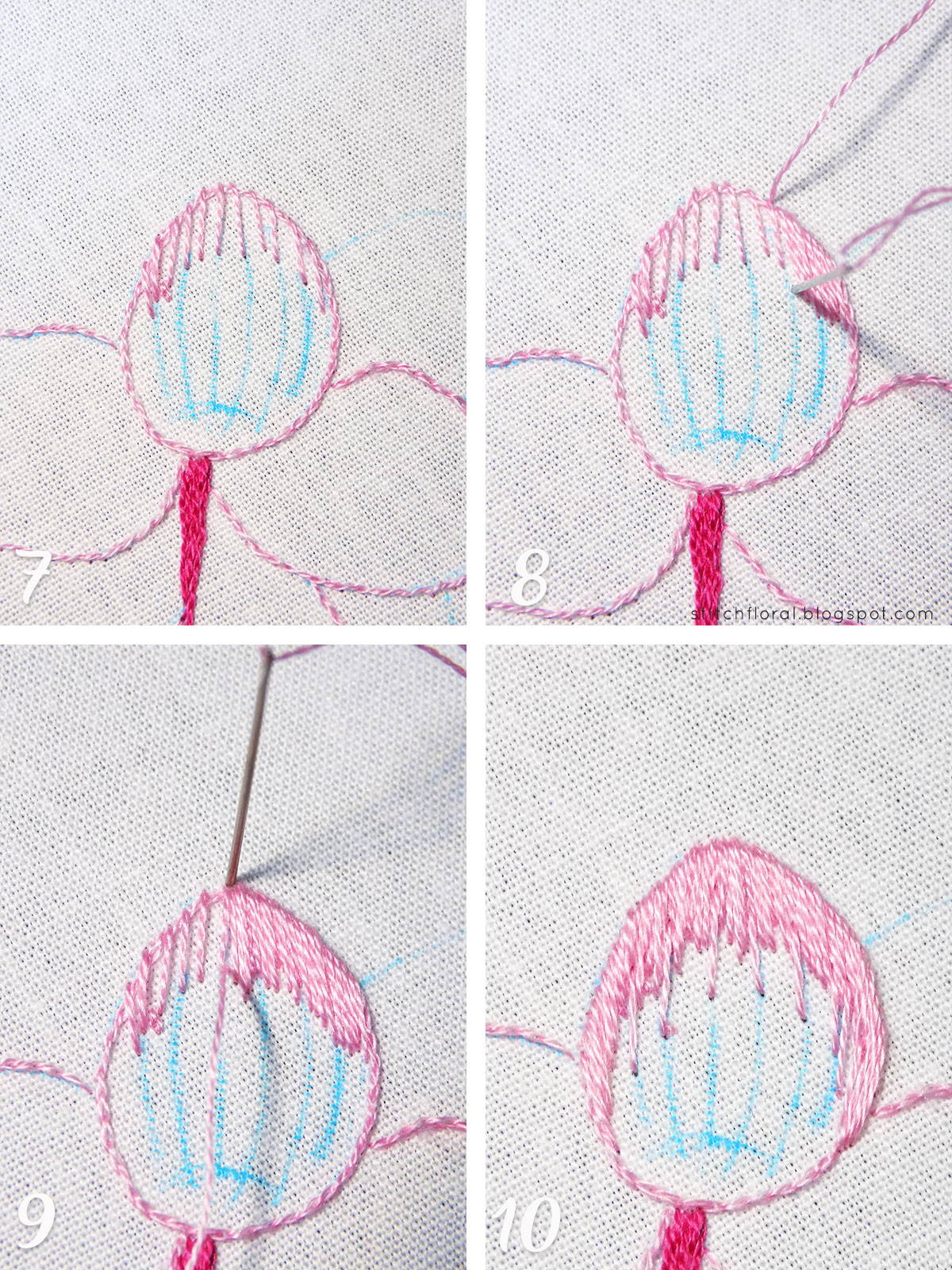 Step 3: Needlepainting Practice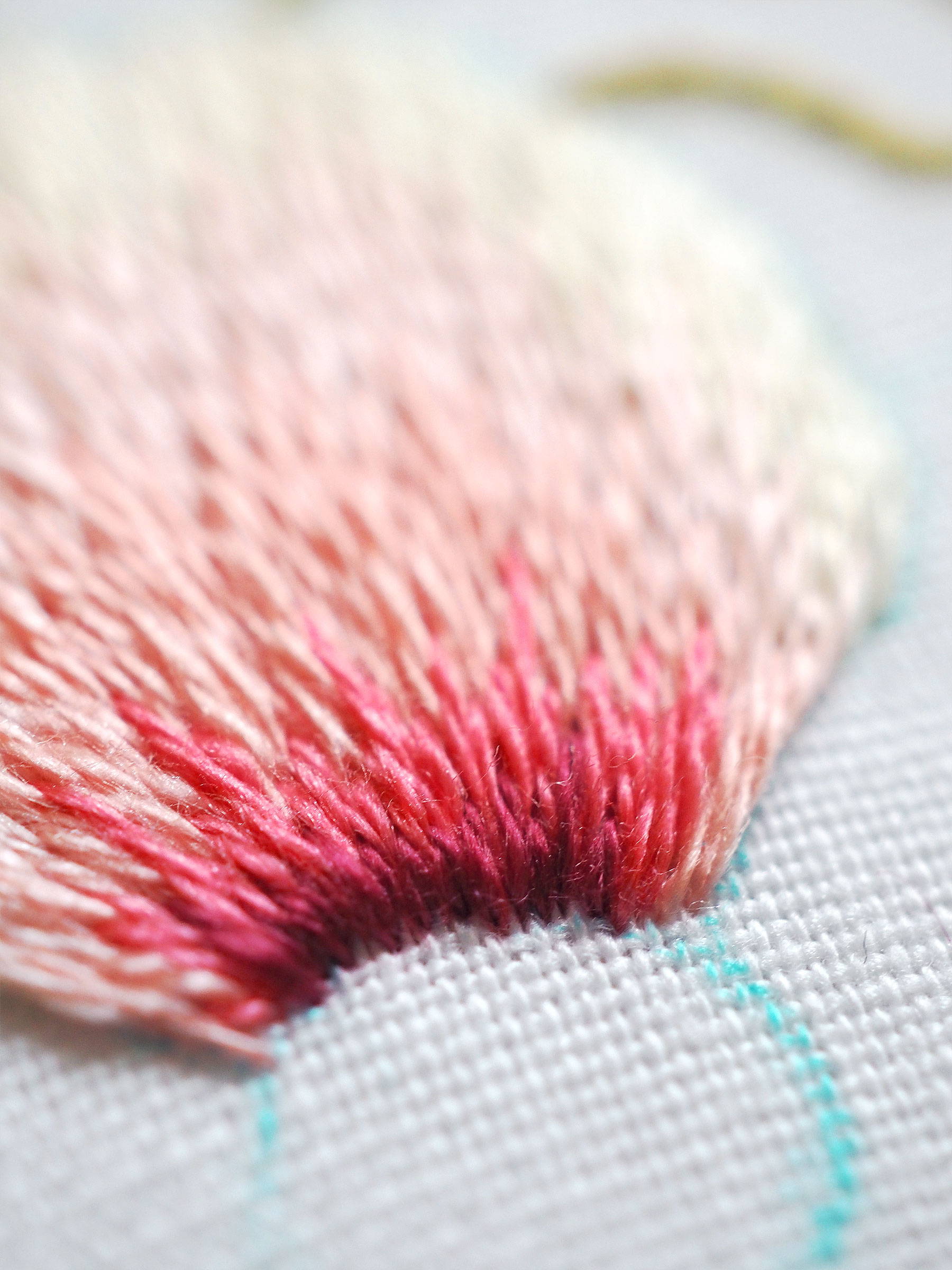 Step 4: Coloring & Needlepainting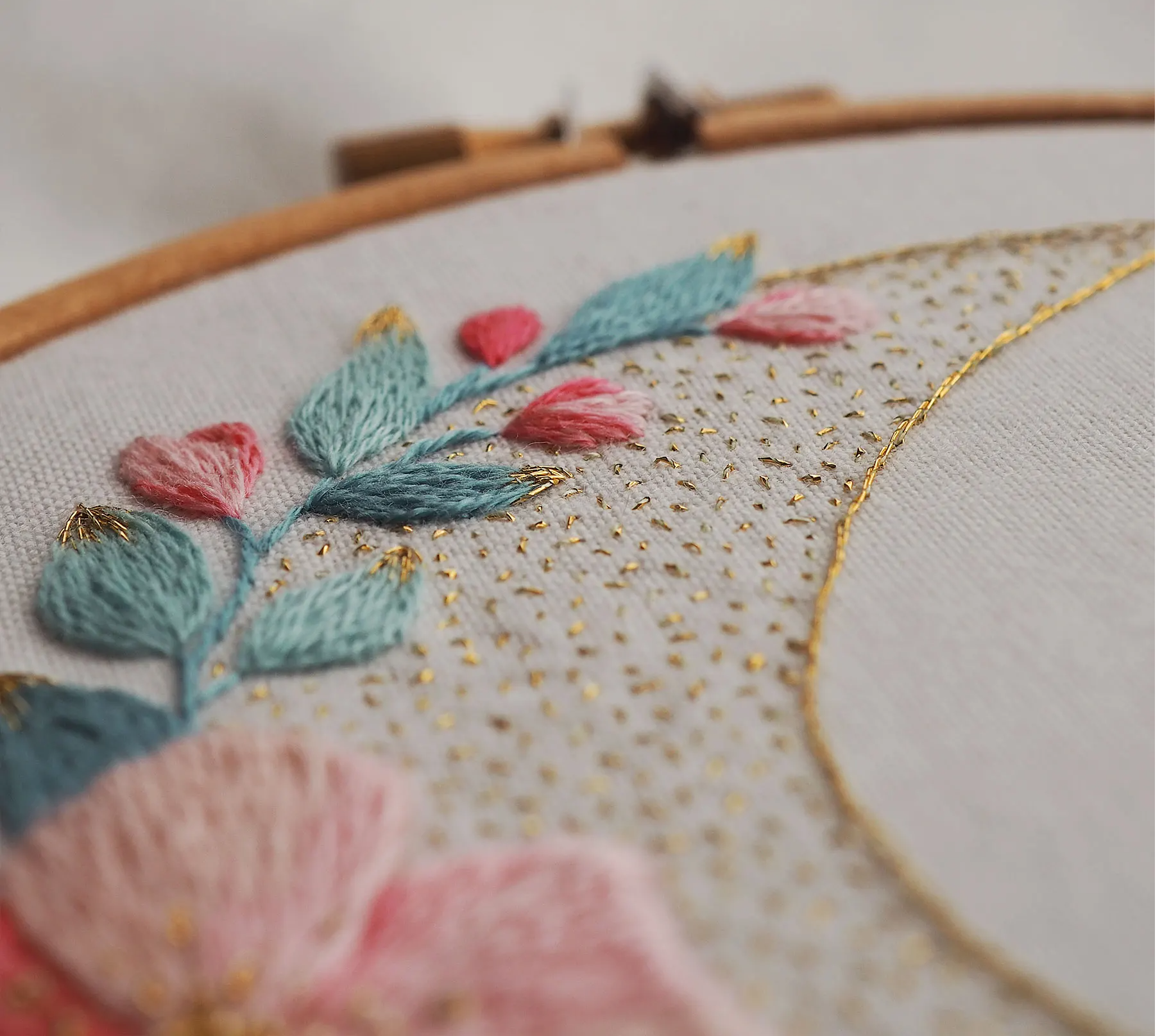 Step 5: Creating Your Own Palette

---
Meet Your Instructor

Introduction to the course

Introduction to the program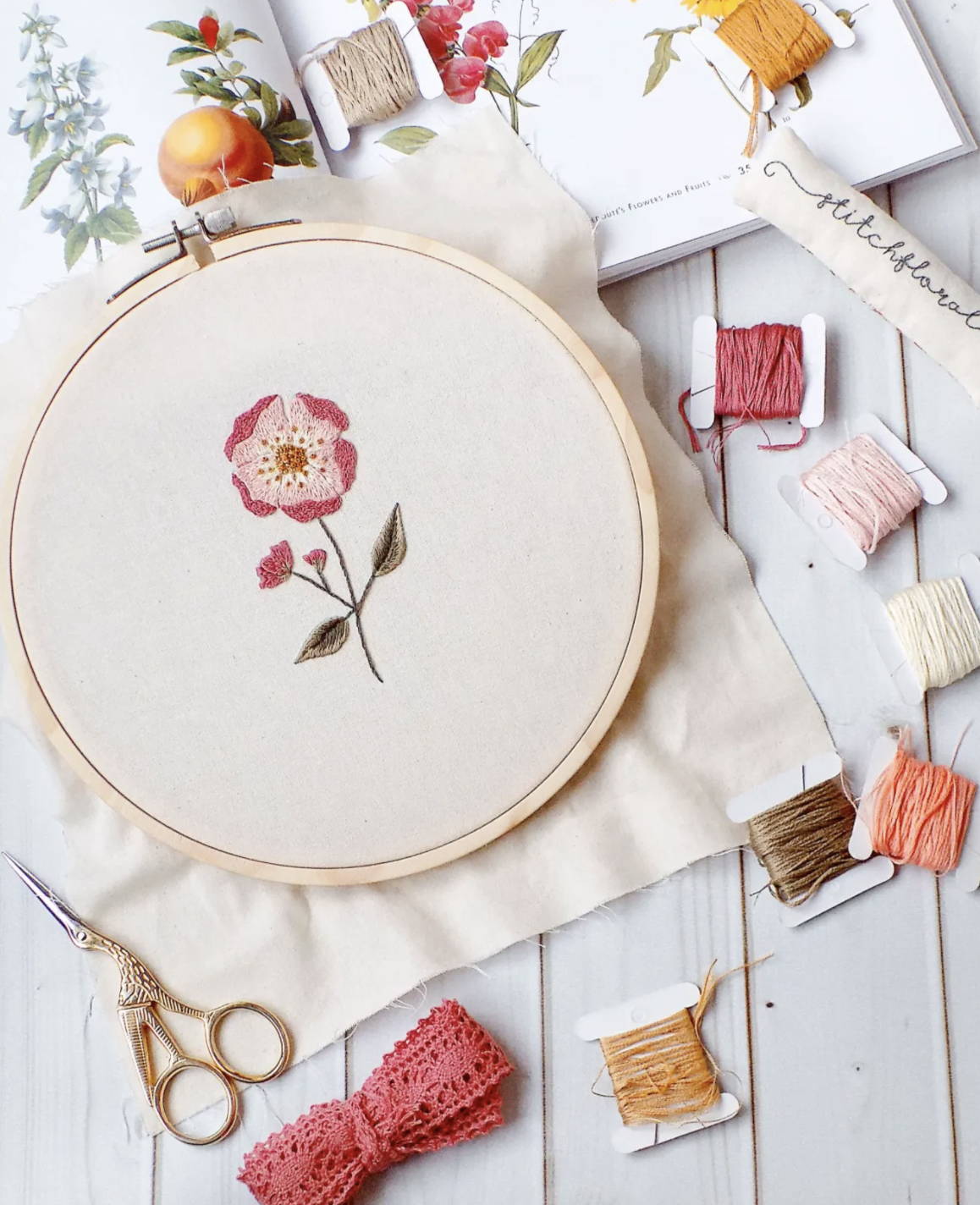 Chapter 1: Hand Embroidery Basics

---
Choosing Thread, Fabric and Needles

Choosing other instruments

How to start your thread

How to end your thread

Extra tips for your hand embroidery journey to sail smoothly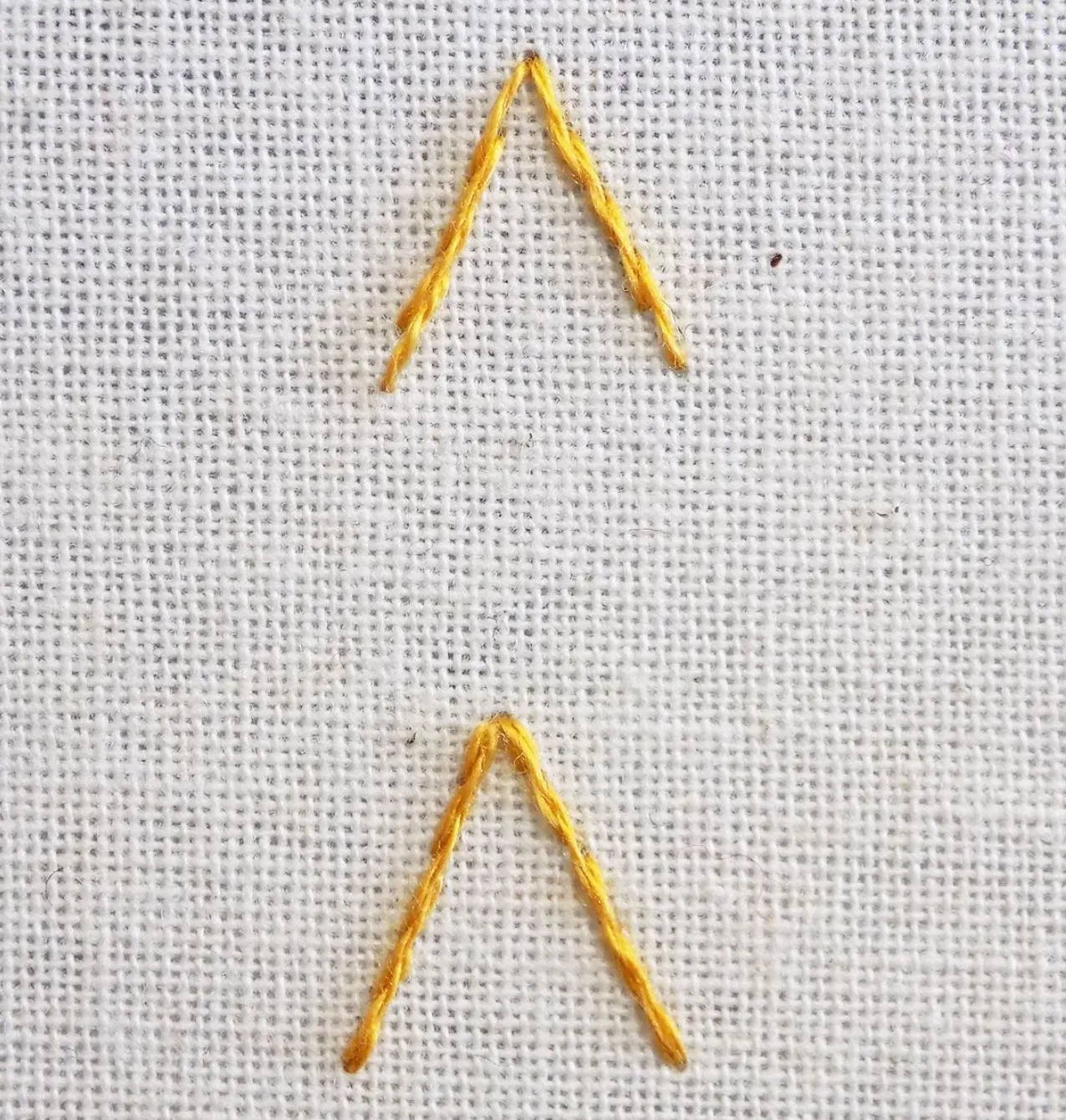 Chapter 2: Essential Stitches

---
Back Stitch, Stem Stitch, French Knots

Split Stitch, Lazy Daisy

Satin Stitch, Fly Stitch

Bullion knots, Fishbone Stitch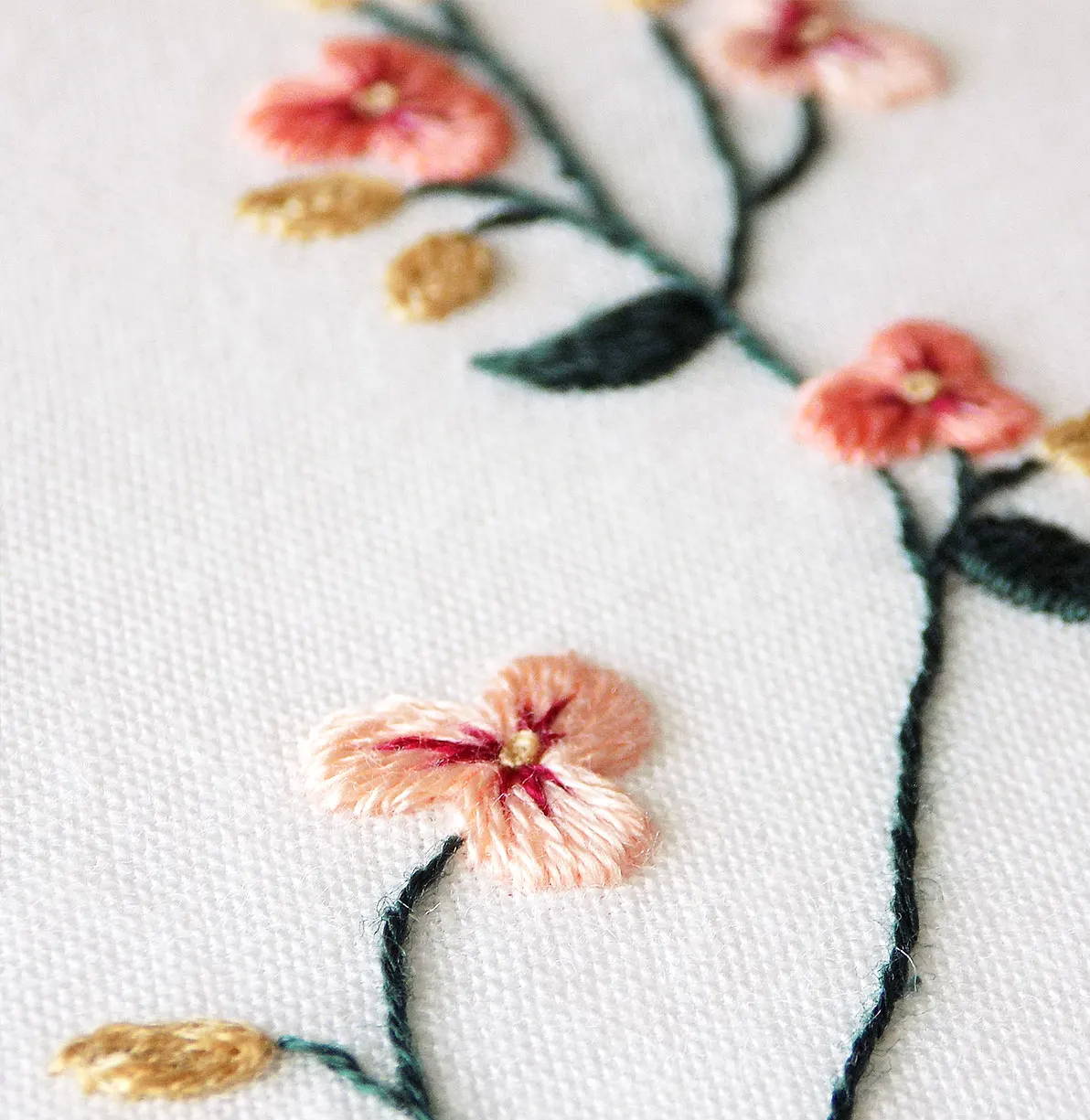 Chapter 3: Botanical Panel Sampler

---
Stitching Practice: Flower #1

Stitching Practice: Flower #2

Stitching Practice: Flower #3

Stitching Practice: Flower #4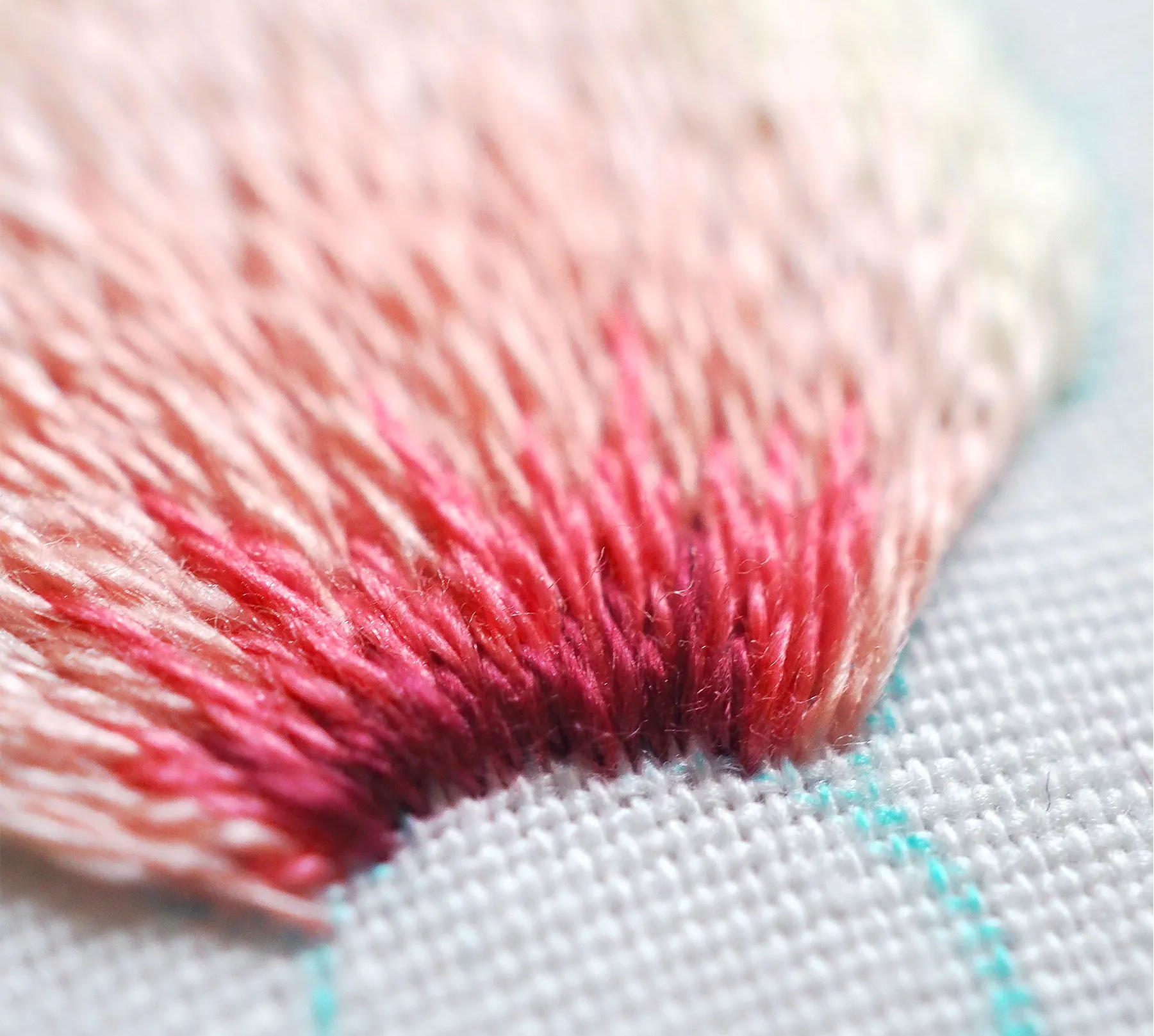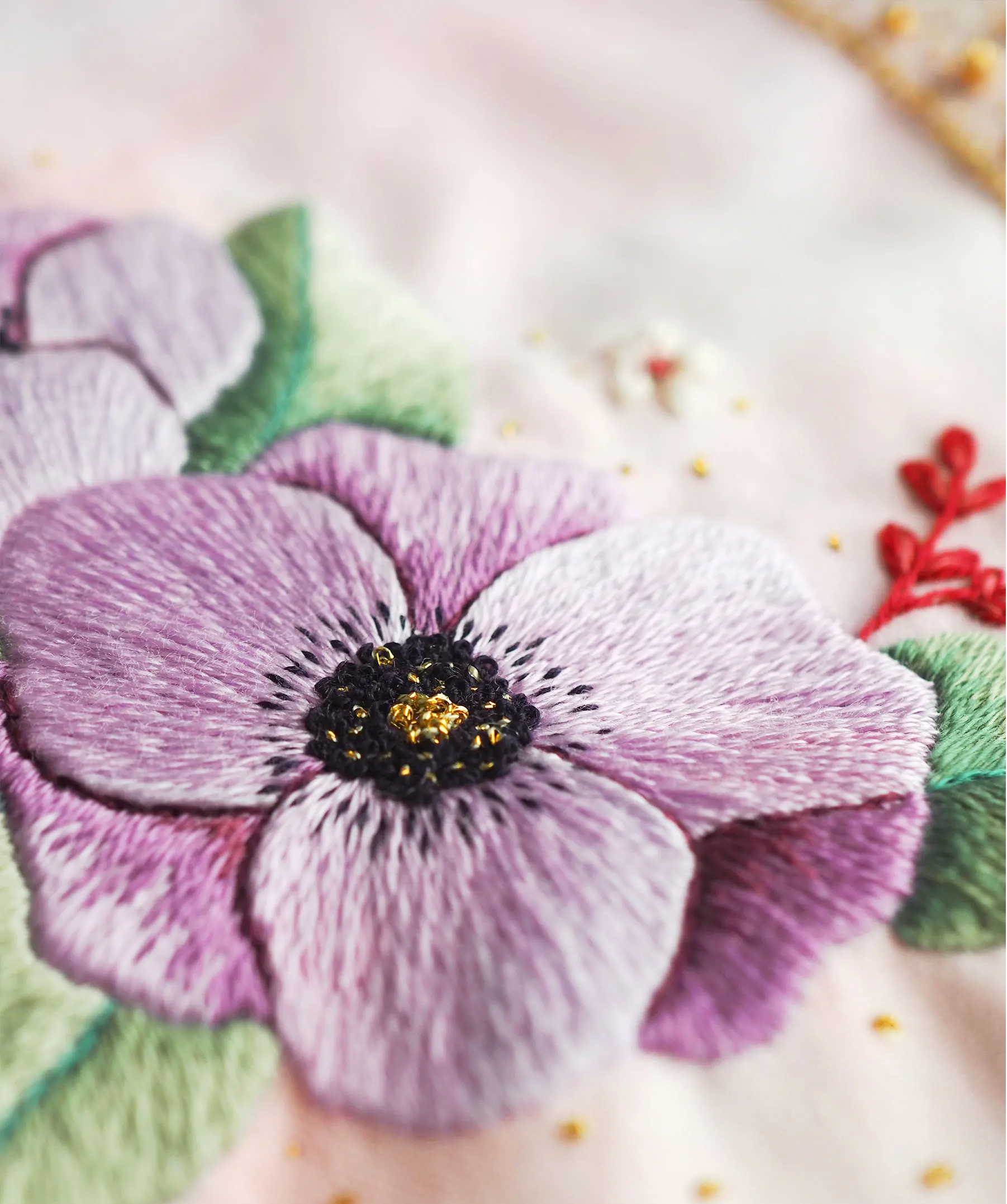 Chapter 4: Long and Short Stitching
---
Long and Short Stitch lesson

Common mistakes to avoid

Game-changing tips to elevate your technique

Practice: Stitch a Sampler to train your shapes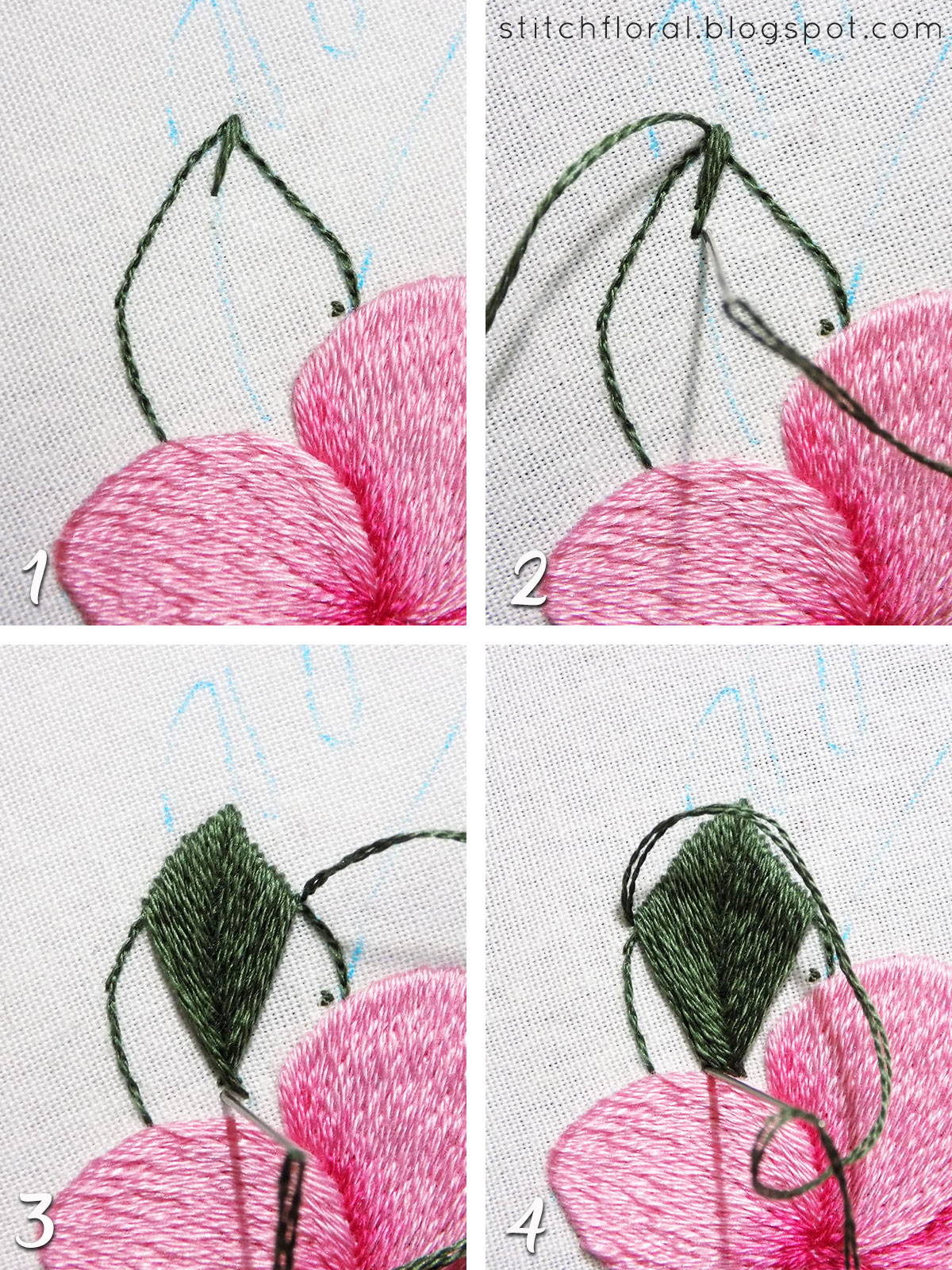 Chapter 5: Needlepainting a Floral Composition

---
Let's Stitch a Needlepainting design together step-by-step: Beginning

The Central Part

Filling the rest of the design

Last touches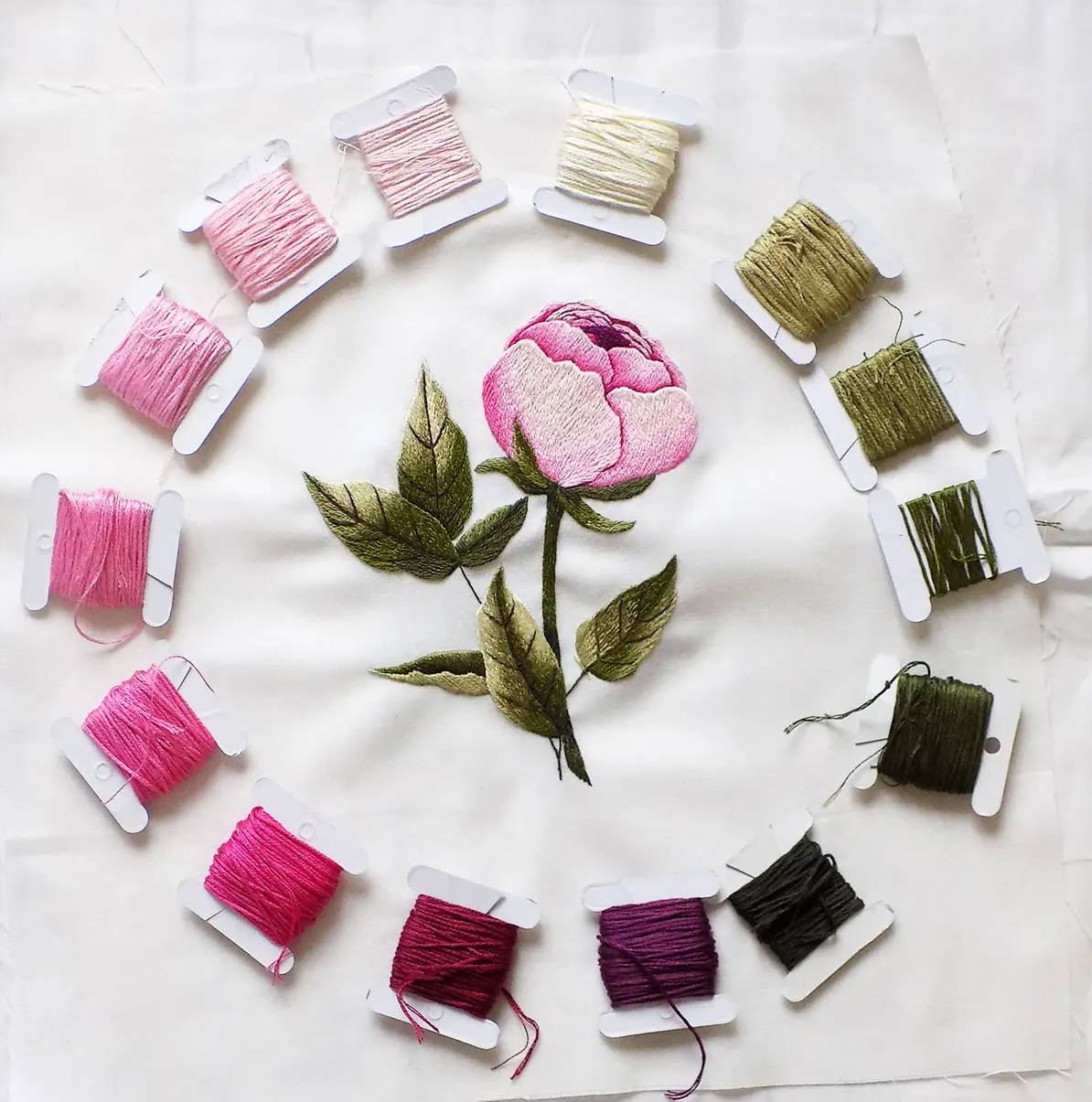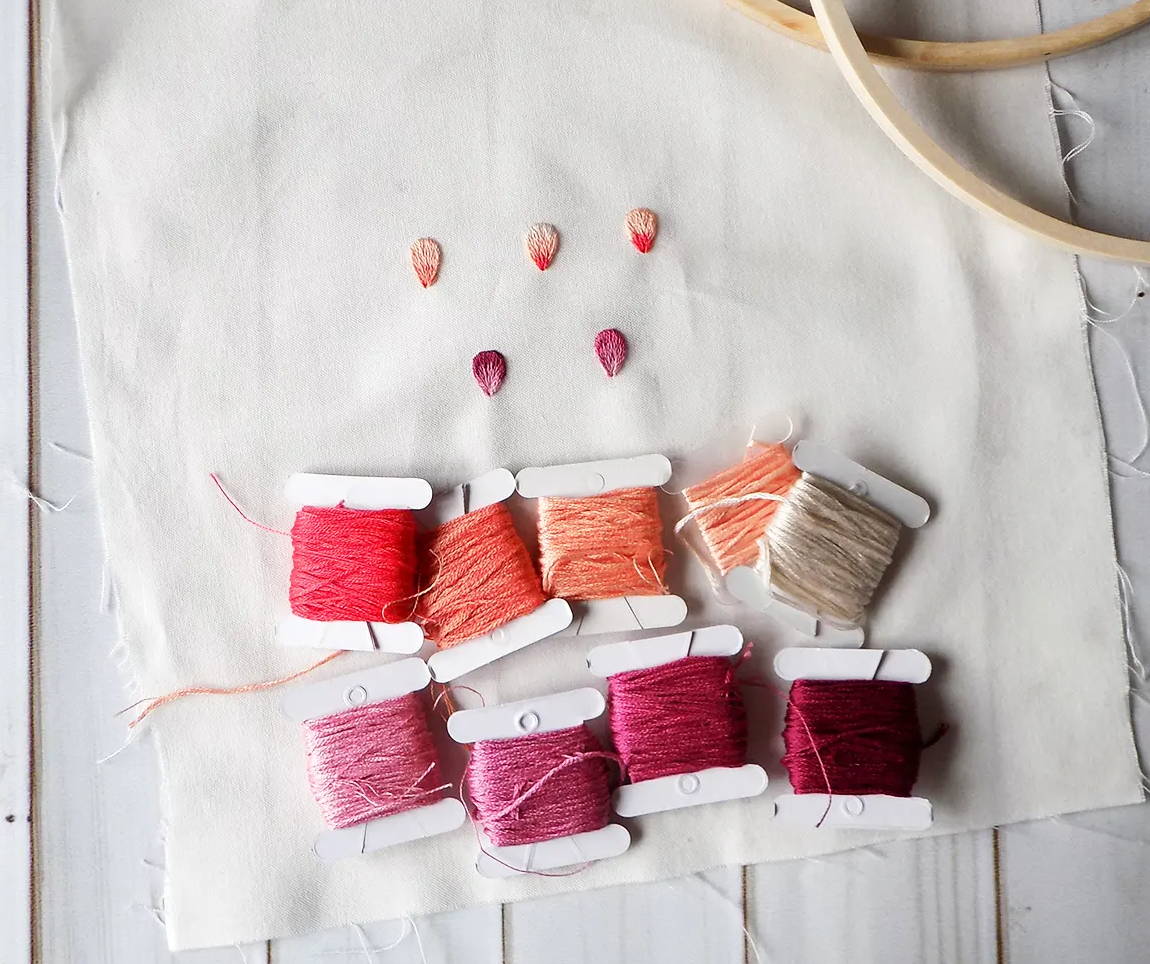 Chapter 6: Colors in Needlepainting

---
1. Color wheel; Hues, Tints and Shades
2. Color blending in Needlepainting
3. Adding "drama" with the contrasting colors
4. Practice: Explore color combinations on a set of similar shapes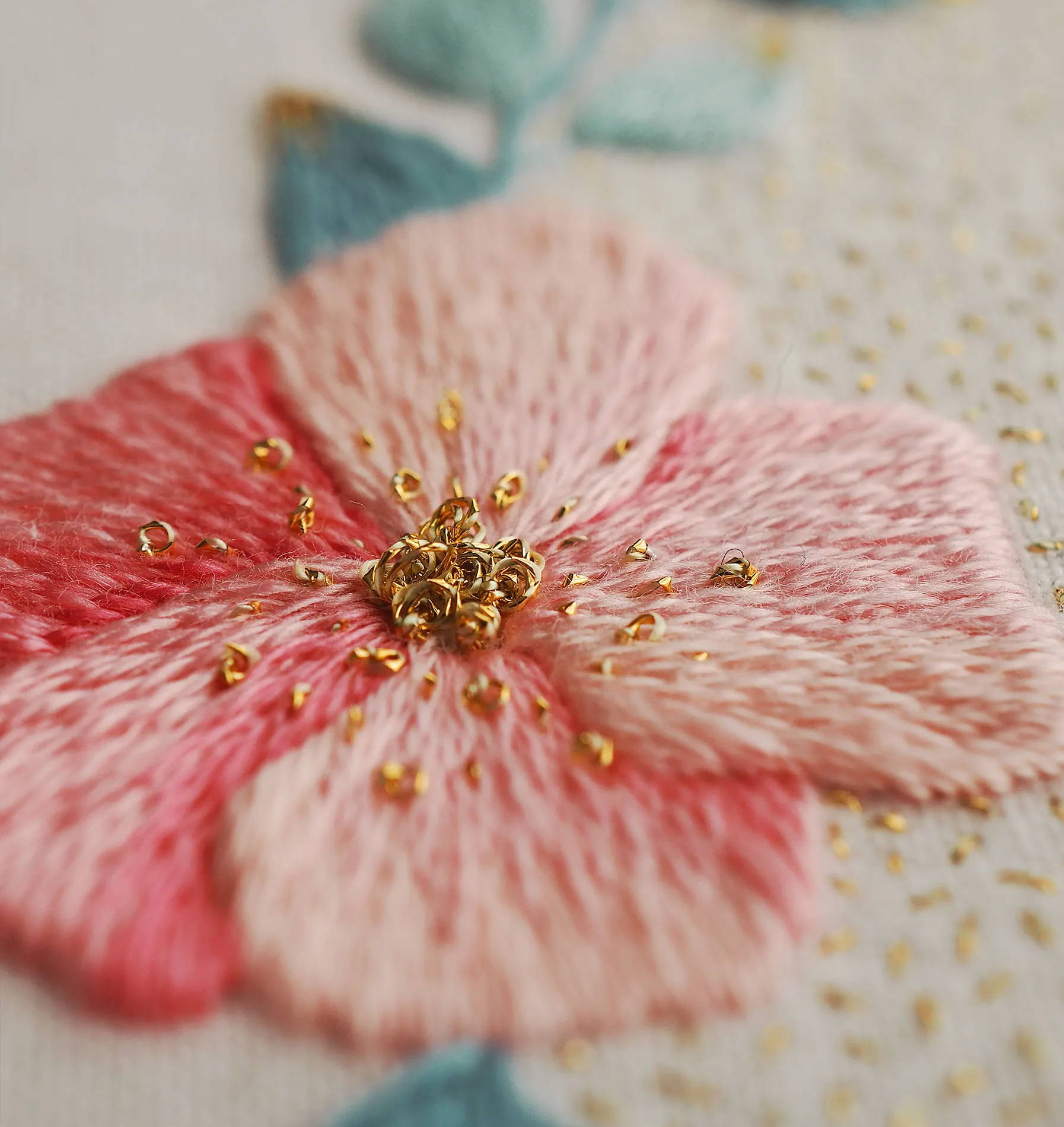 Chapter 7: Color a Floral Wreath On Your Own

---
Finding YOUR own palette (colored pencils/paints needed)

Explore the chosen colors and pick the gradients


Choosing thread combinations, stitching a draft

Stitch a Floral Wreath using YOUR own color palette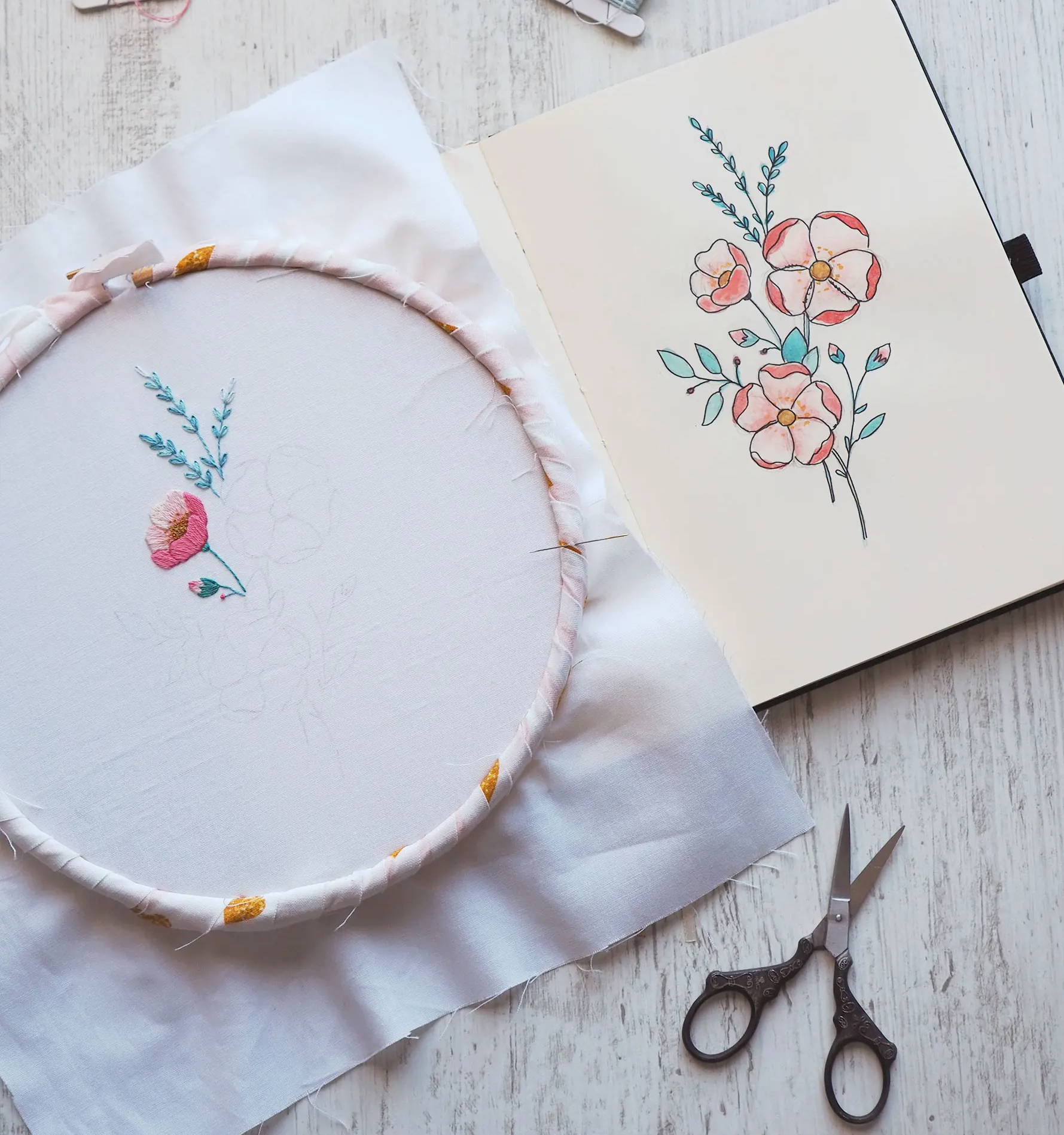 Bonus Chapter: Creating Your Own Design From Scratch

---
Drawing and Stitching

How to adjust your drawing for the embroidering purpose?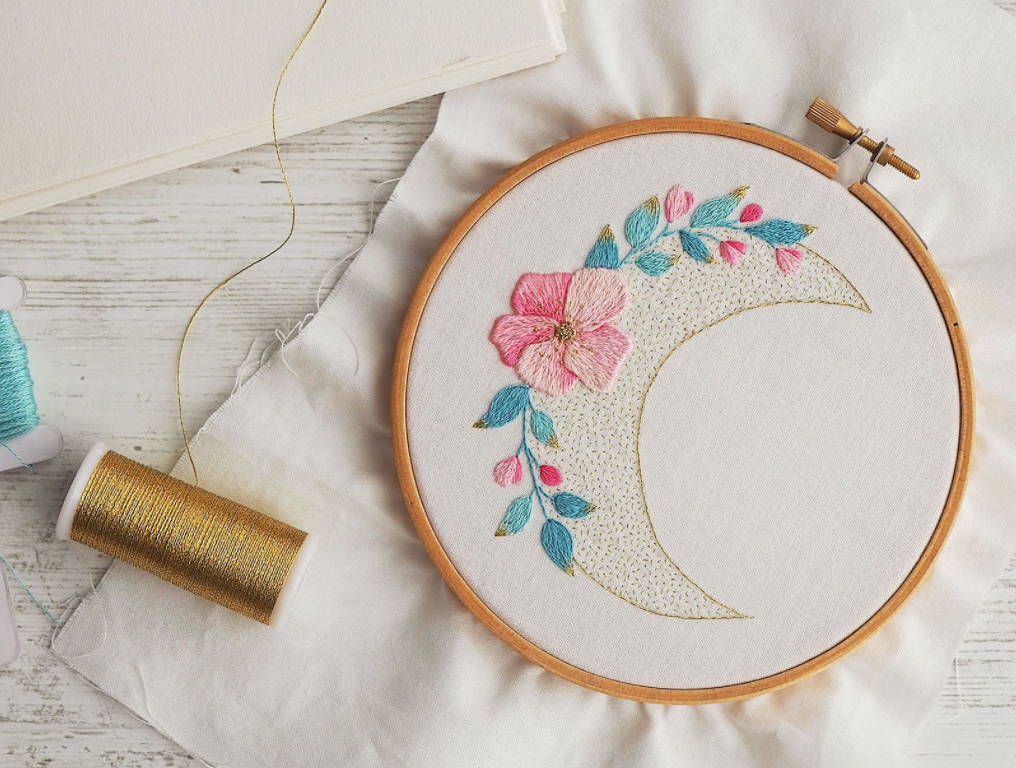 ---
1.   Congratulations on Completing the Course!
---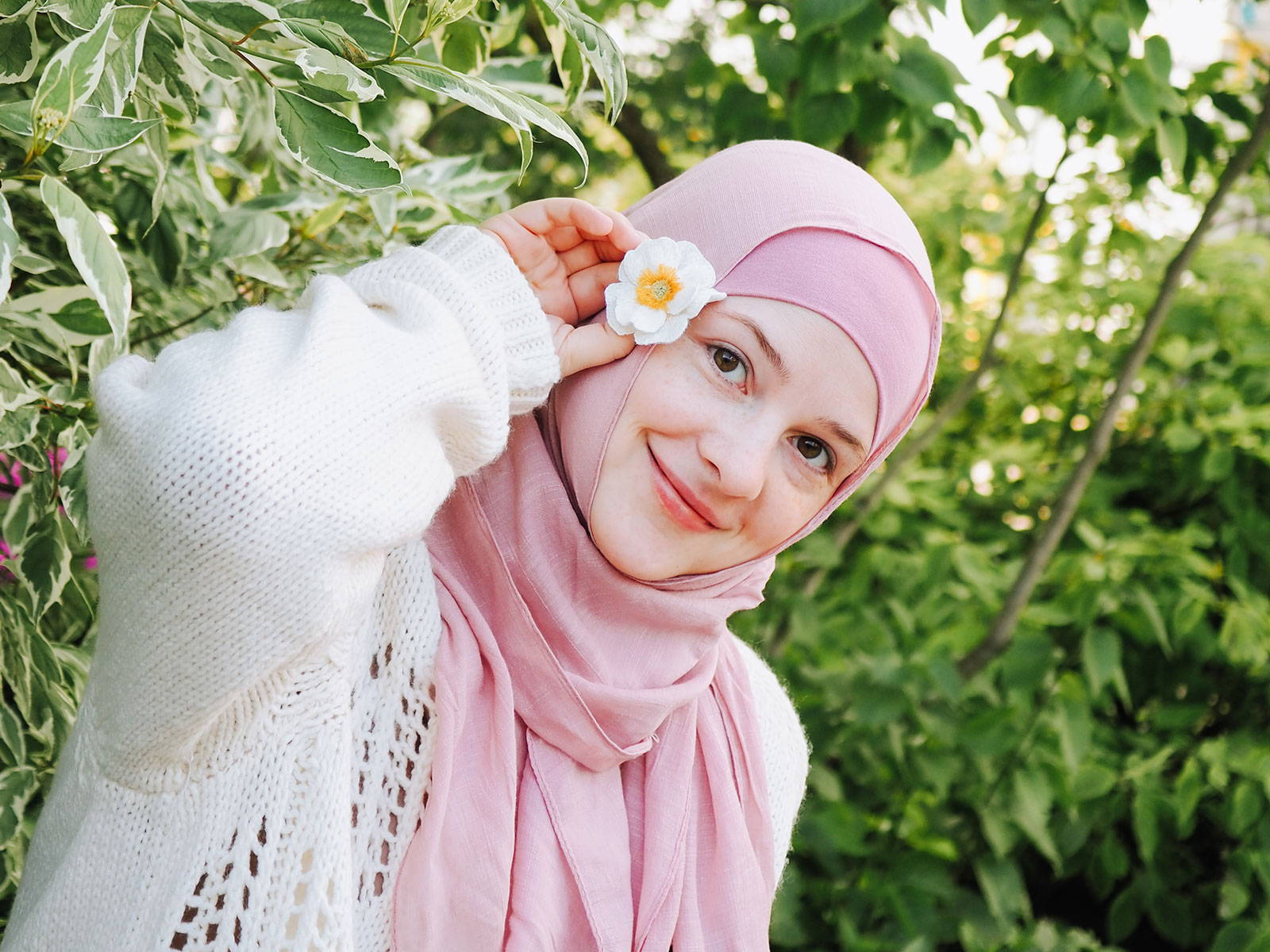 My name is Amina, also known as @stitch_floral and I'm a self-taught hand embroidery artist currently based in Turkey.
About 6 years ago, I discovered a passion for hand embroidery and never looked back!
Initially, the diversity of stitches and techniques in this craft sphere blew my mind, however later I settled on a style featuring semi-realistic flowers and flirty touch of gold.
With determination to make embroidery easier for beginners, the "Stitch Floral" blog was born, which contains many lessons, tutorials, and stitch along, and helps stitch enthusiasts all over the world to make their first and next steps.
With gratitude to all the lovely people who draw benefit from my educational posts, I wanted to create a comprehensive course that would dive deep into the secrets of hand embroidery and provide confidence to the brave souls looking to start this journey.

Who want to learn embroidery

Who want to learn how to do needle painting

Who want to advance in my embroidery skills

Who want to discover a creative hobby!

You can access the class videos for 32 weeks. Within that period, you can replay the videos in as many devices as you want.
This is an early bird class! That means the production of this class is just starting. The curriculum is subject to change, and content may be uploaded sequentially based on the creator's schedule to ensure that we provide the class in the best quality possible. The Class release schedule follows the US Pacific Time Zone.
Earn points to Extend the Class Access
Receive points by completing chapter missions OR by taking the class two or more times a week. And use the points to extend your class access!
Once we pass the release date, we will no longer offered the class at "Early Bird". The rate will be raised after the date, right now is the cheapest deal you can get.
Quadpay is available for the payment! Your order will be split into 4 installments paid over 6 weeks! To find out more, please visit Quadpay.
Class videos are available now
You're all set!
Don't feel like waiting? Here are classes you can start today
Live what you love with CLASS101