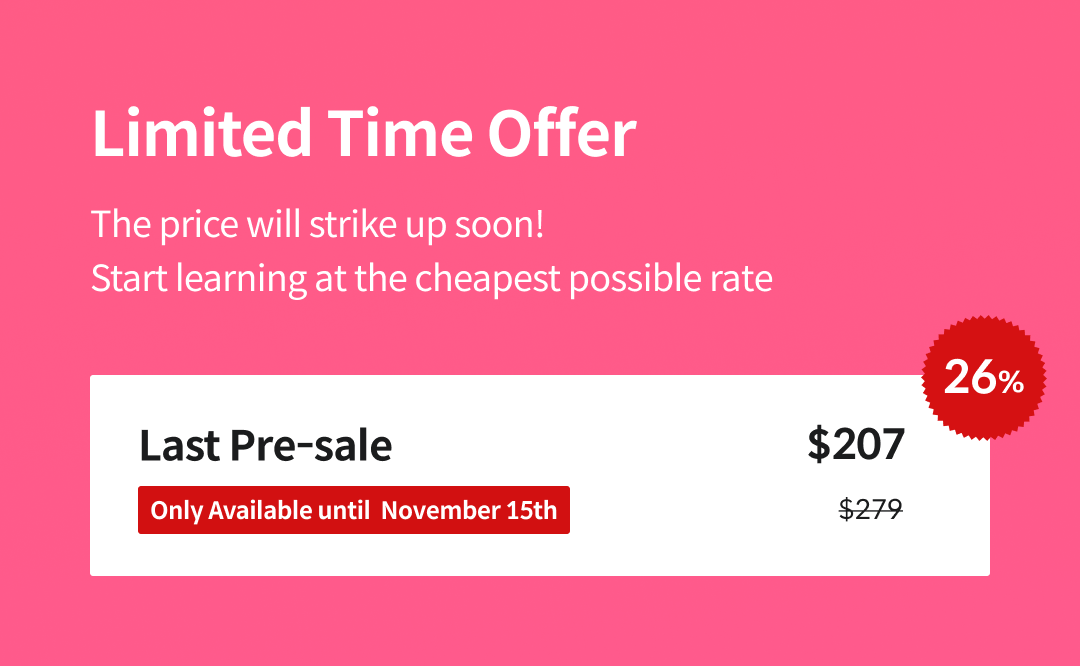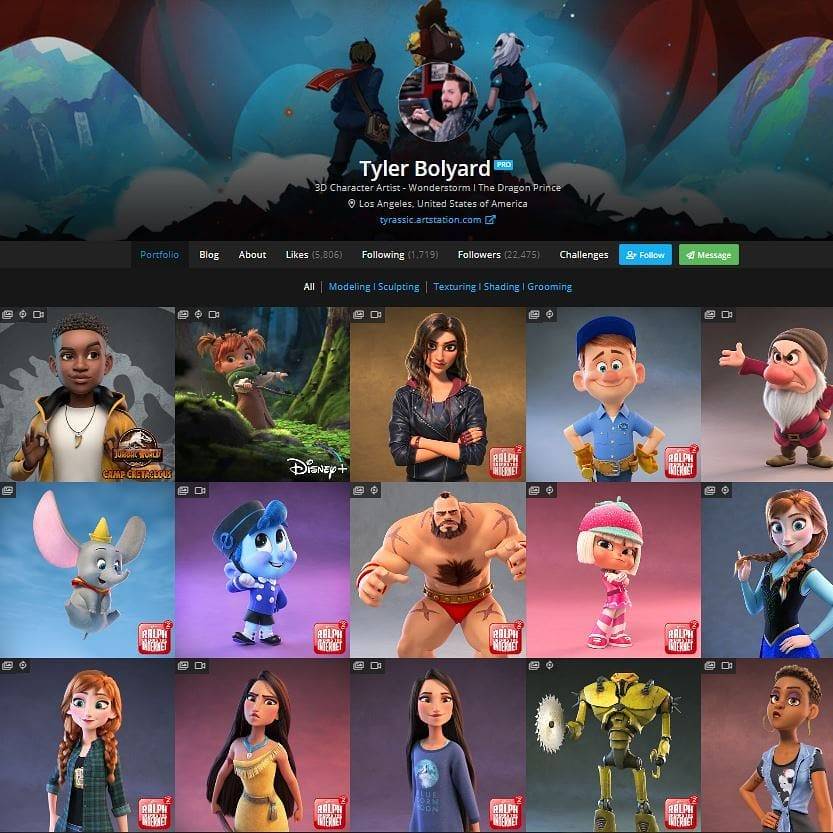 Create Stylized 3D Characters for Animation and 3D Printing
with Artist, Tyler Bolyard l Tyrassic
Learn the Real-time 3D Character Pipeline from Start to Finish
Learn how to create stylized 3D characters for animated movies, series, video games, or toys. This course will teach you all the basics of creating an appealing stylized character and how to turn a 2D character design into a final posed 3D character.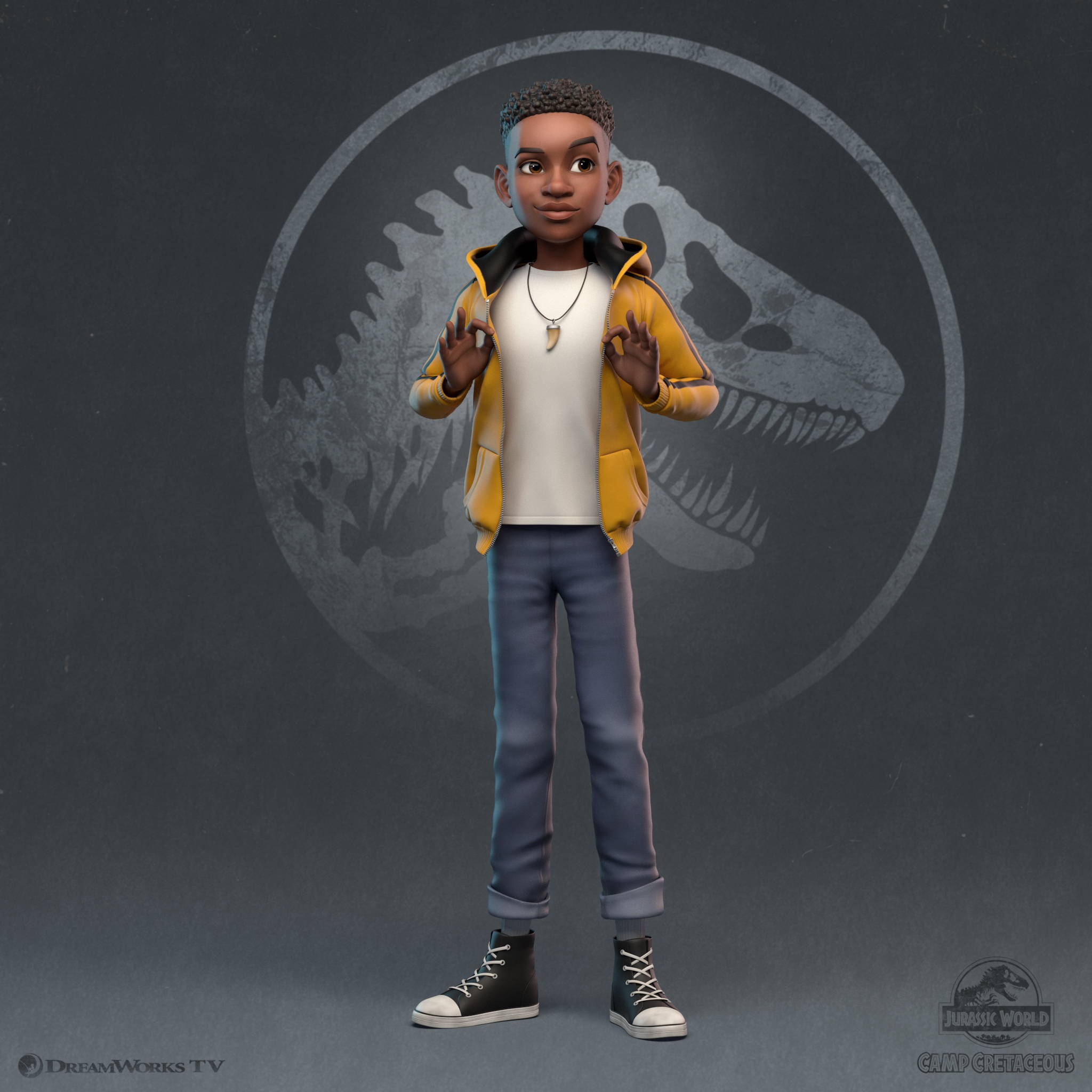 In this class, you will learn how to combine 2D design fundamentals, sculpt principles, and learn 3D softwares like Zbrush and Maya. Throughout the class, you will learn step by step how to take a character from block-out to final professional presentation and even a 3D printed maquette!
All-in-One Tutorial to Improve Your 3D Skills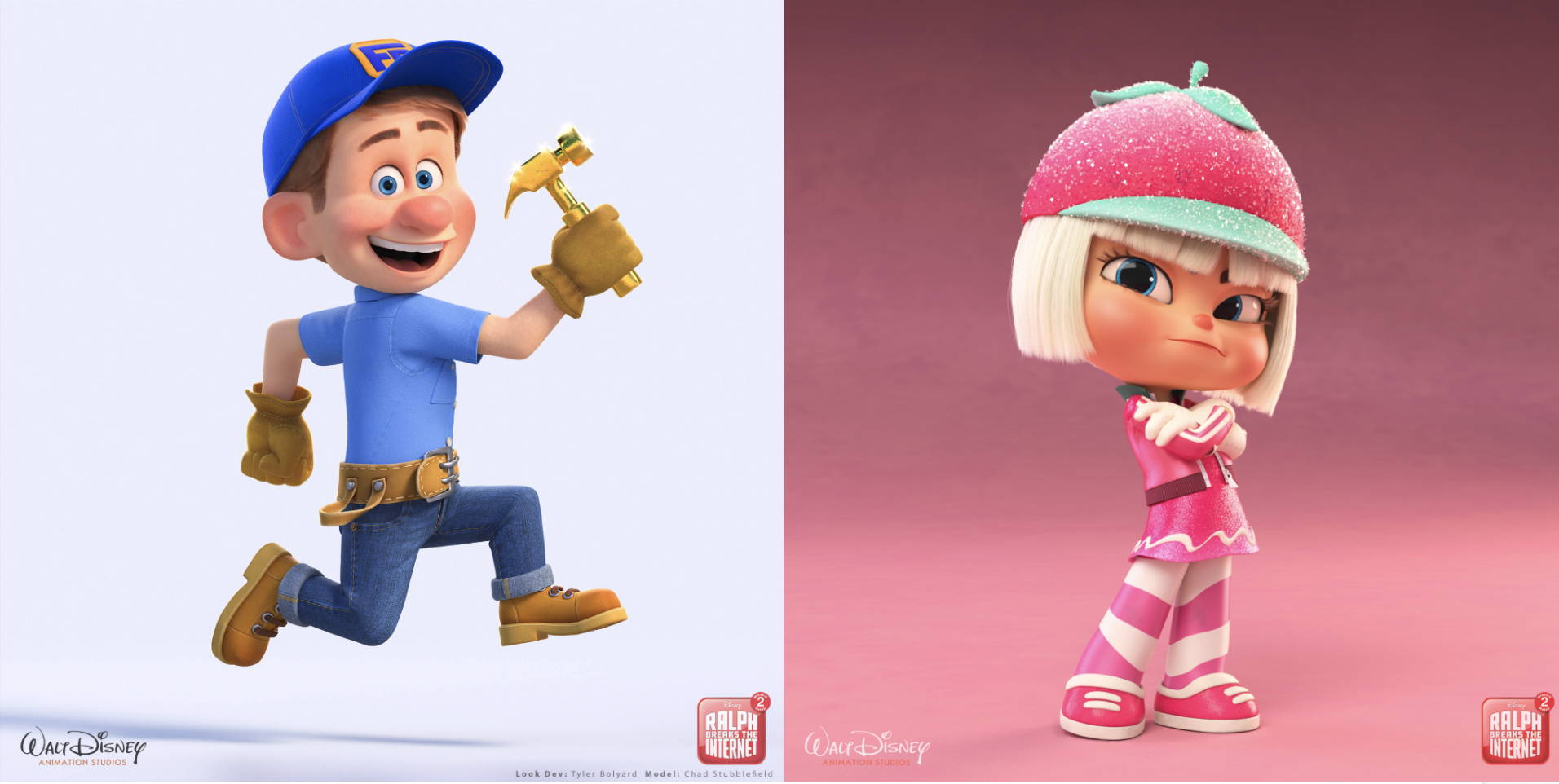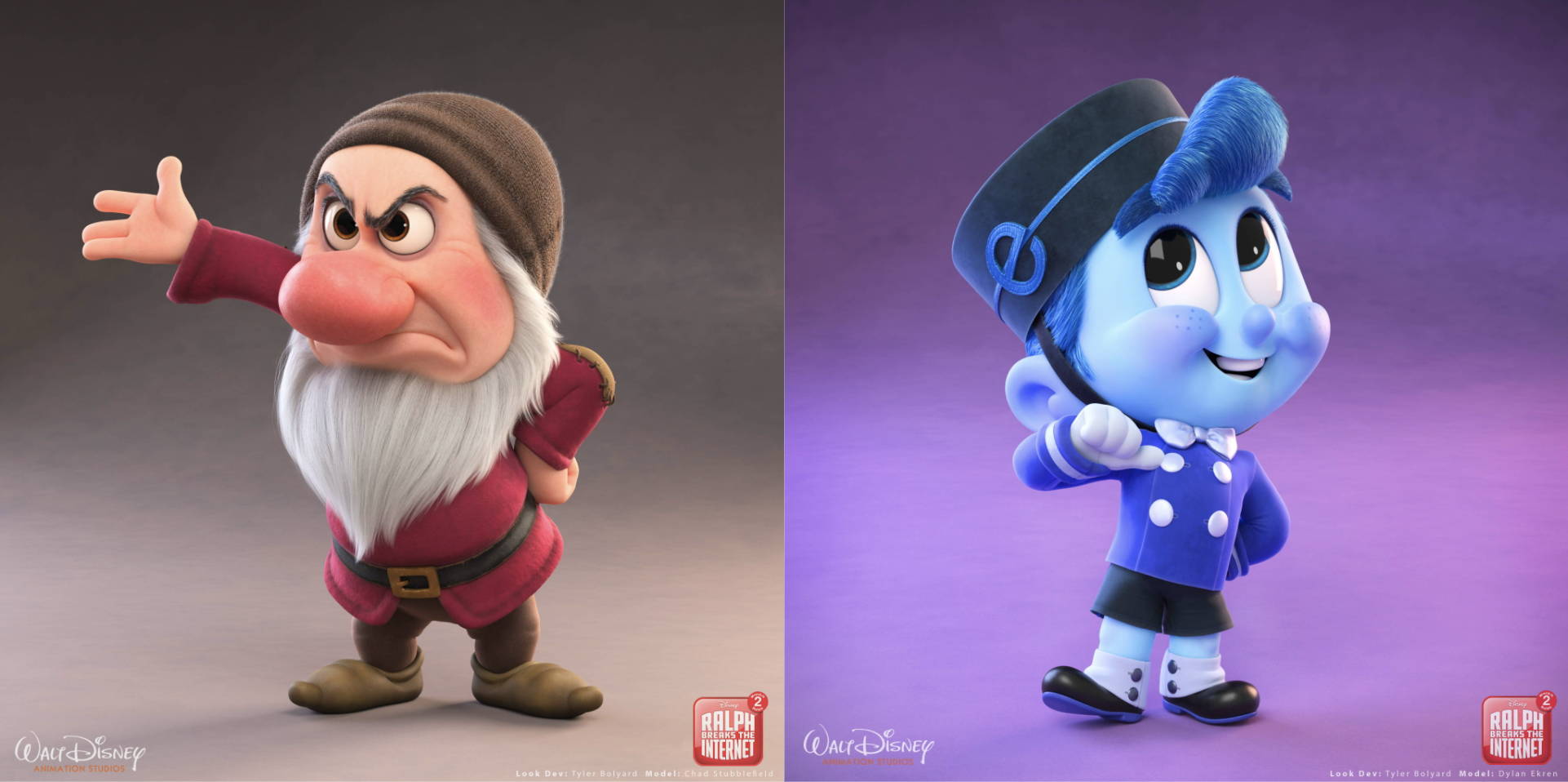 This course is for anyone who wants to learn how to create appealing stylized 3D characters for entertainment and for anyone who wants to work as a 3D character artist in the future. Anyone who wants to learn how to use tools like Zbrush and Maya to create stylized 3D character art for feature animation, animated series, video games, or 3D printing and toys is welcomed.
Learn 5 Different 3D Modeling Programs at Once!
In this class, I am going to share the breakdown on my thoughts and how I approach projects from the very start to finish.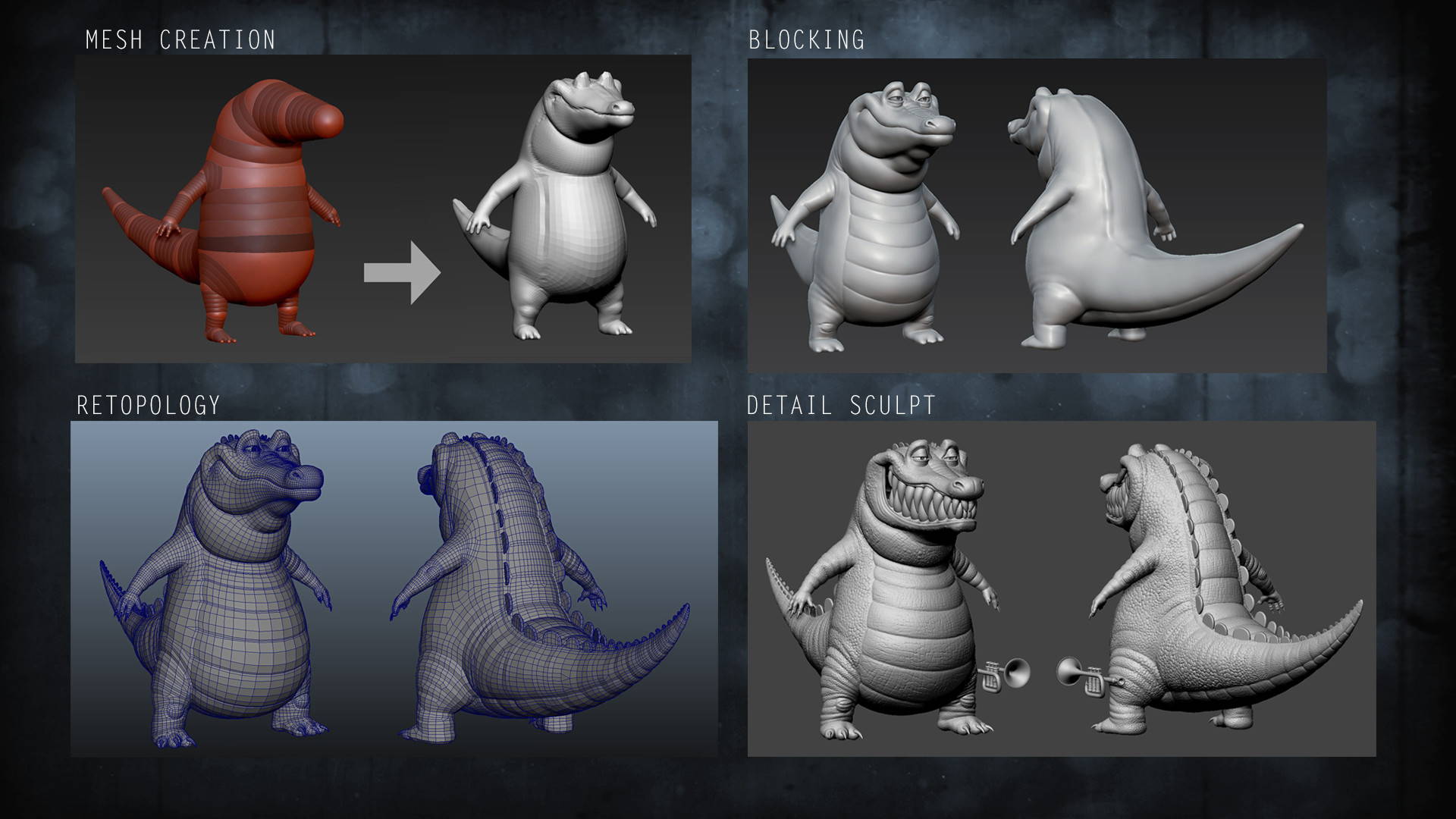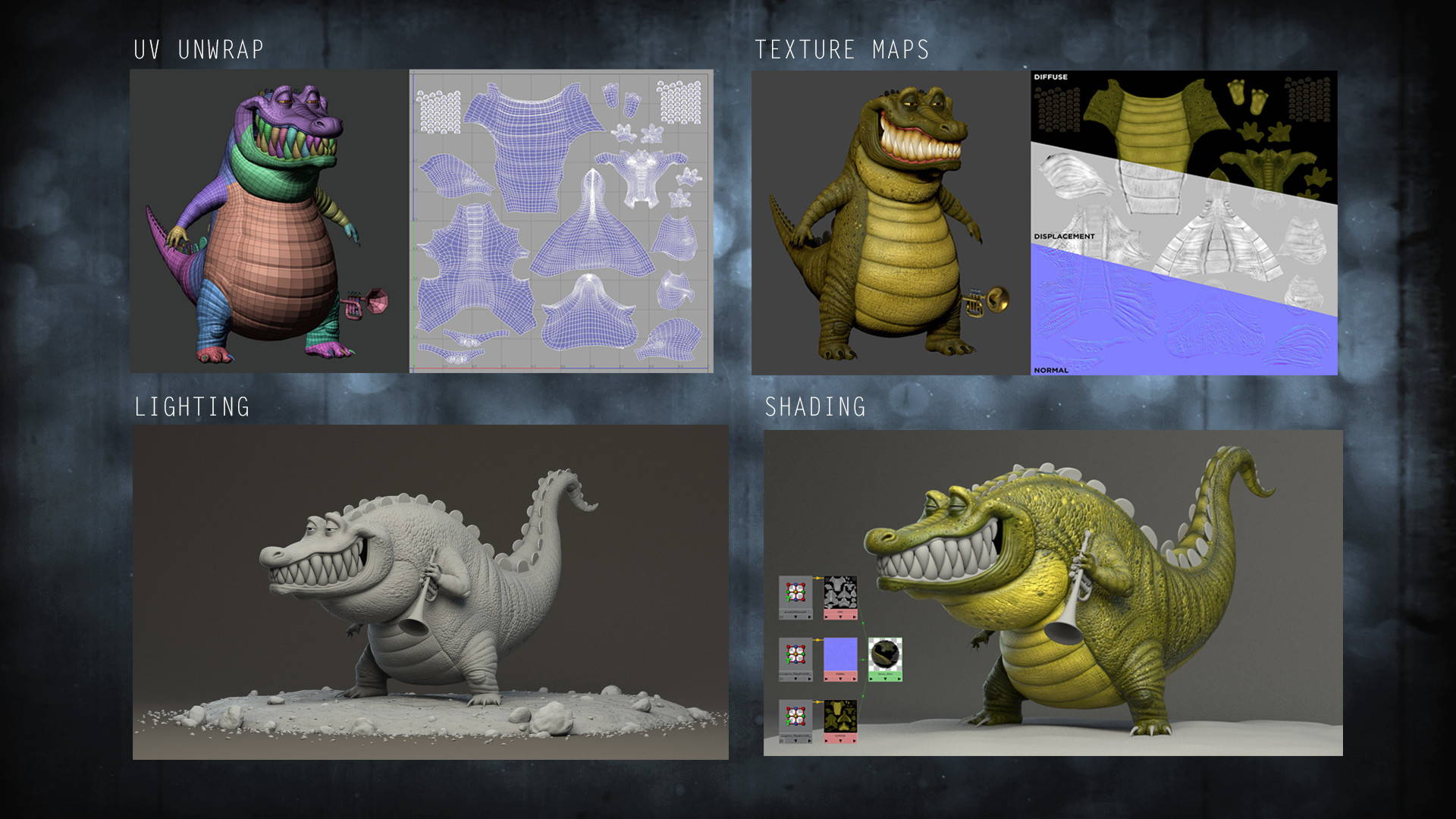 Zbrush - Main digital sculpting software for blocking out and sculpting characters.
Substance Painter - Texture painting software for creating texture maps to apply to shaders.
Maya - Primary industry standard 3D software for modeling, retopology, UV layouts, shading and rendering with Arnold. Also used for XGen Hair creation.
Marmoset Toolbag - Real-time ray tracer for quick rendering presentation as well as baking for textures creation.
Photoshop - Industry standard tool for final rendered image compositing and texture map creation and editing.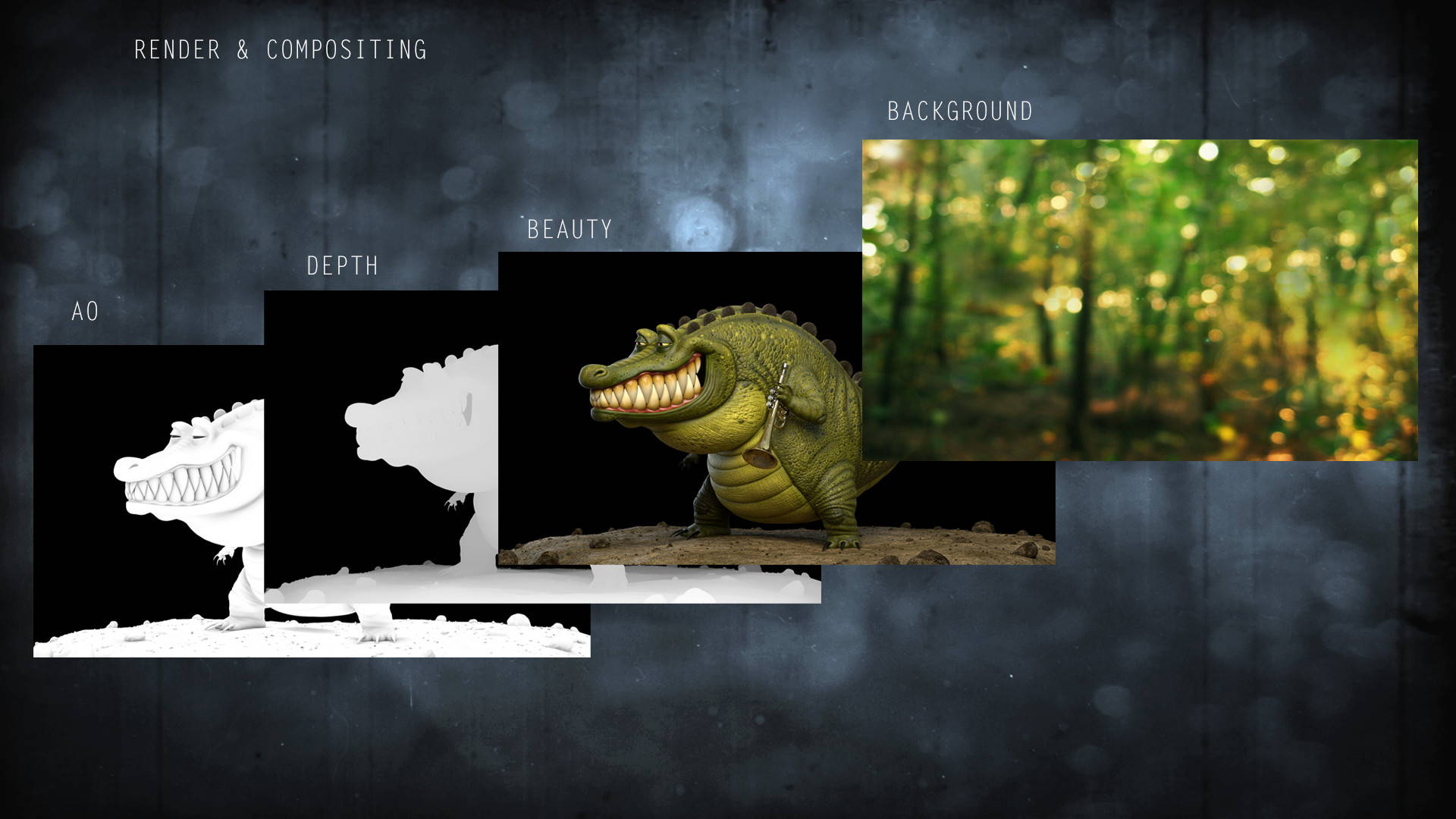 By the end of this course, you will create your own professional-level 3D character that can fit into the next animated movie, tv-show, or video game. You will be able to efficiently translate 2D character designs into 3D characters with more appeal and believability.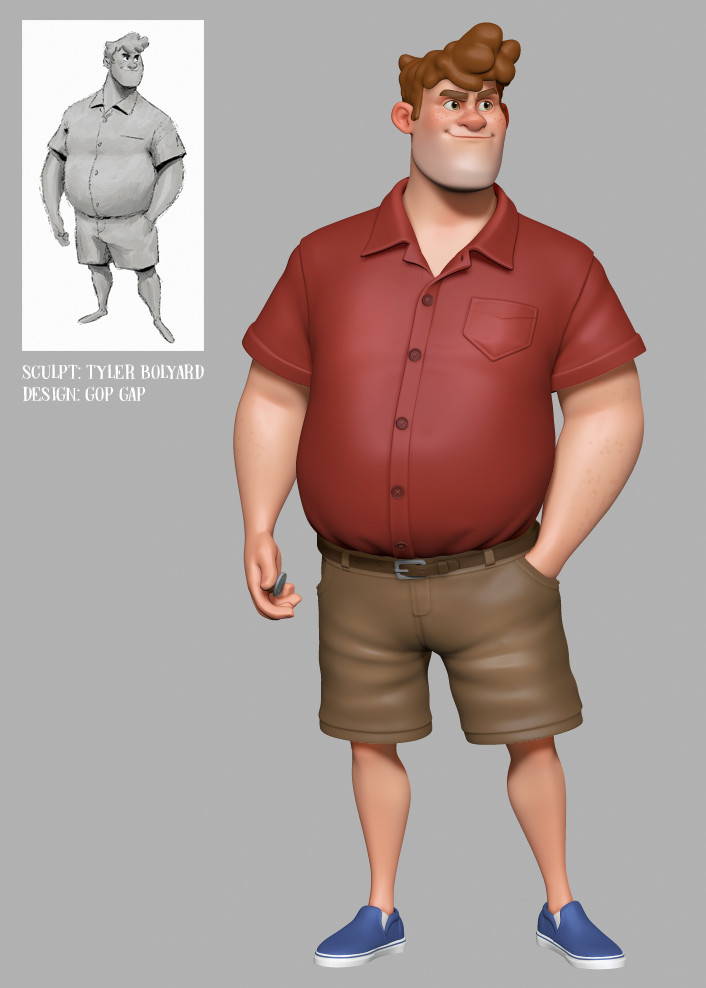 Step 1: Translating 2D Designs into 3D Models with Appeal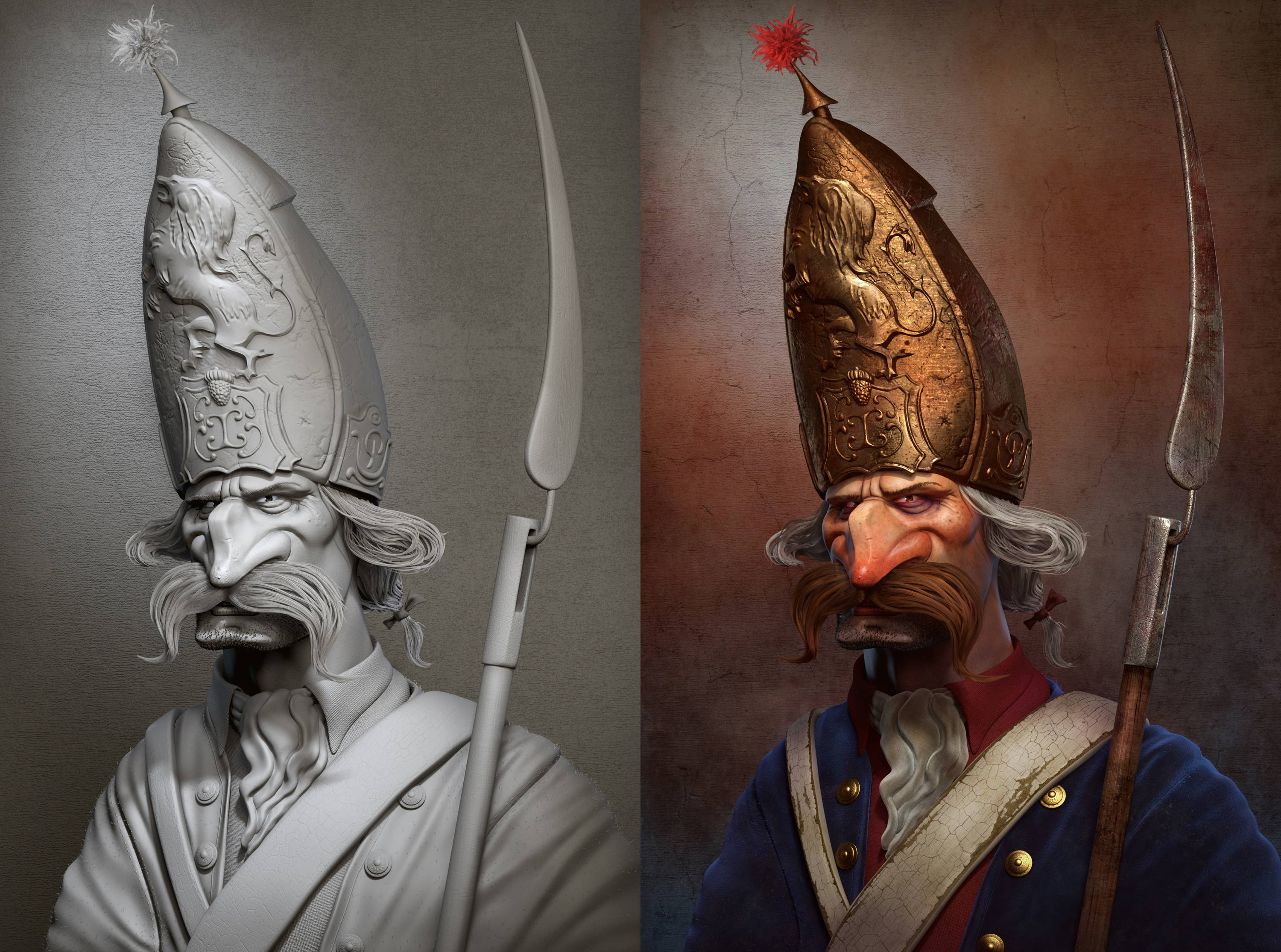 Step 2: Tyrassic's Approach to 3D Character Development

Step 3: How to Simplify Human Anatomy into Clean Stylized Forms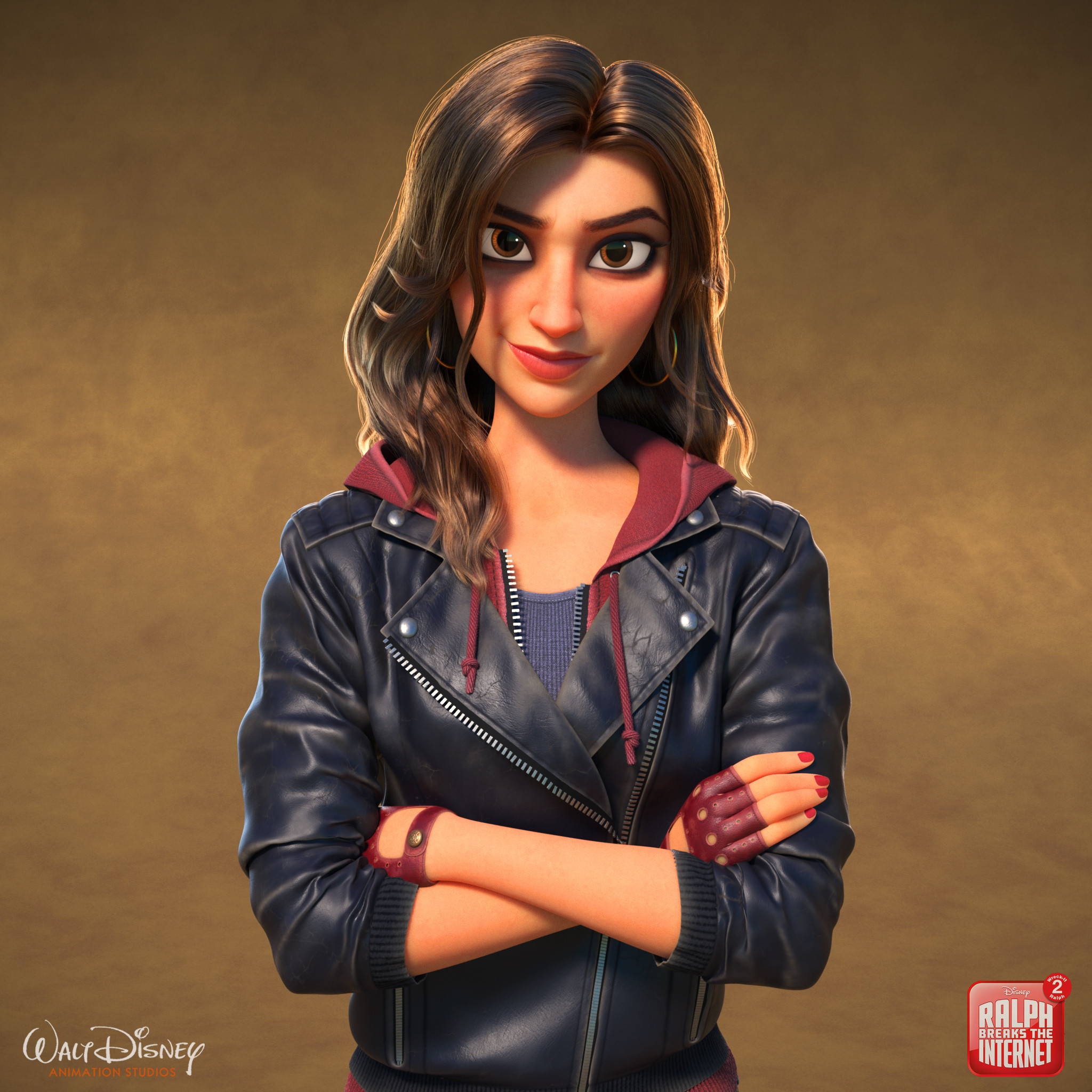 Step 4: How to Texture and Surface Your Models for Portfolio Presentation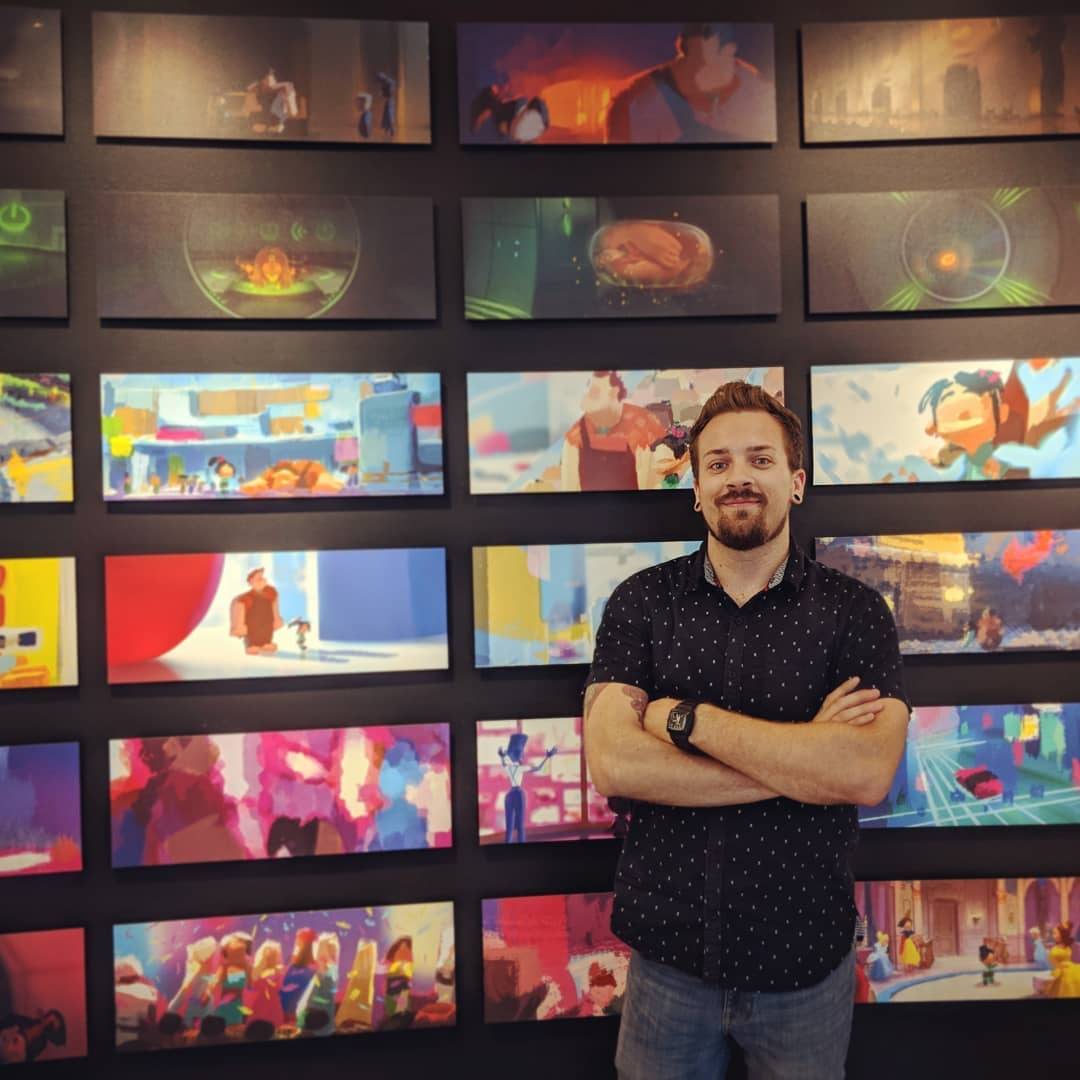 Step 5: Industry Advice & Professional Practices

Important Notice: This is an early bird class! That means the production of this class is just starting. The curriculum is subject to change, and content may be uploaded sequentially based on the creator's schedule to ensure that we provide the class in the best quality possible.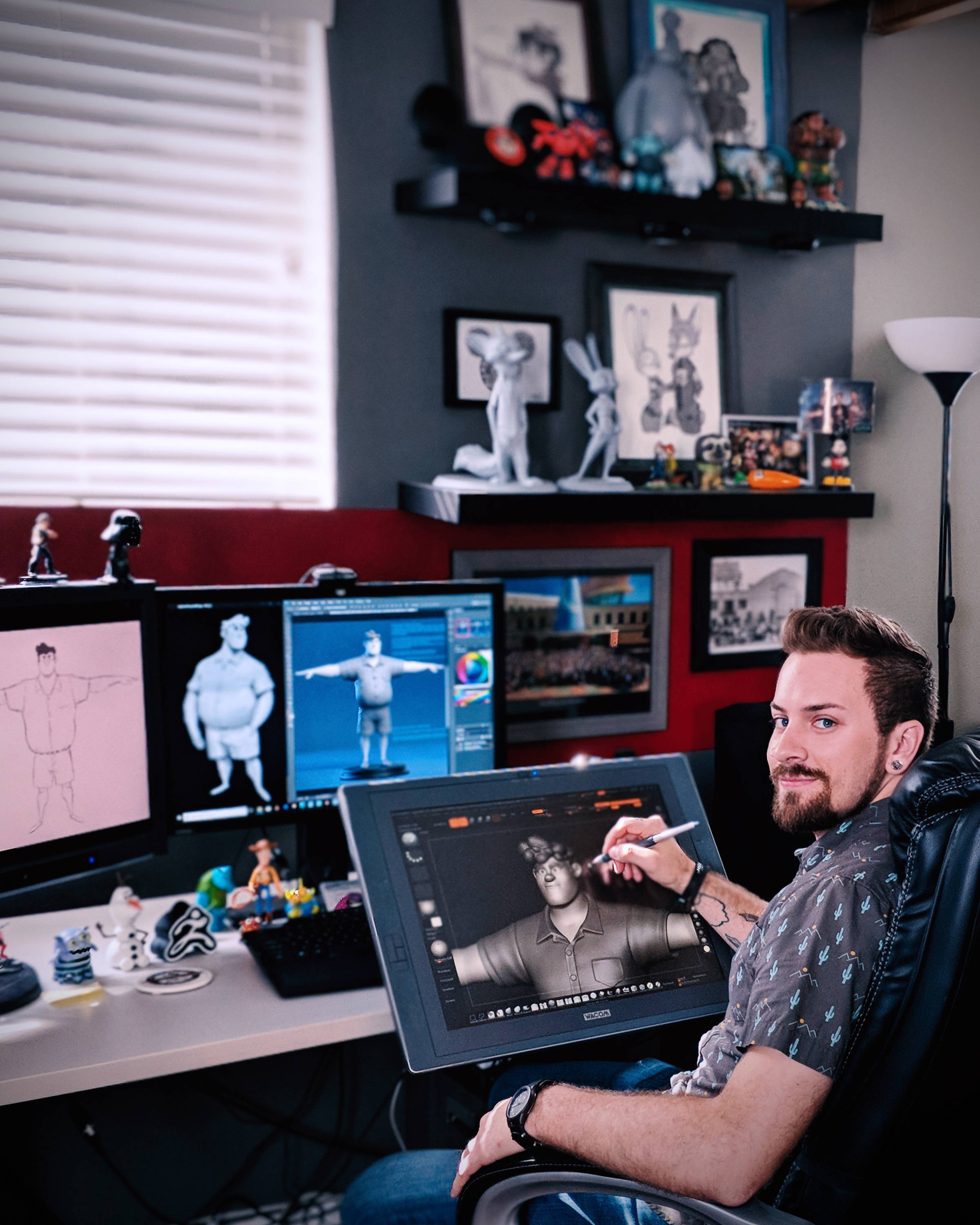 ---
Meet Your Instructor: Tyler Bolyard aka Tyrassic

Introduction and course overview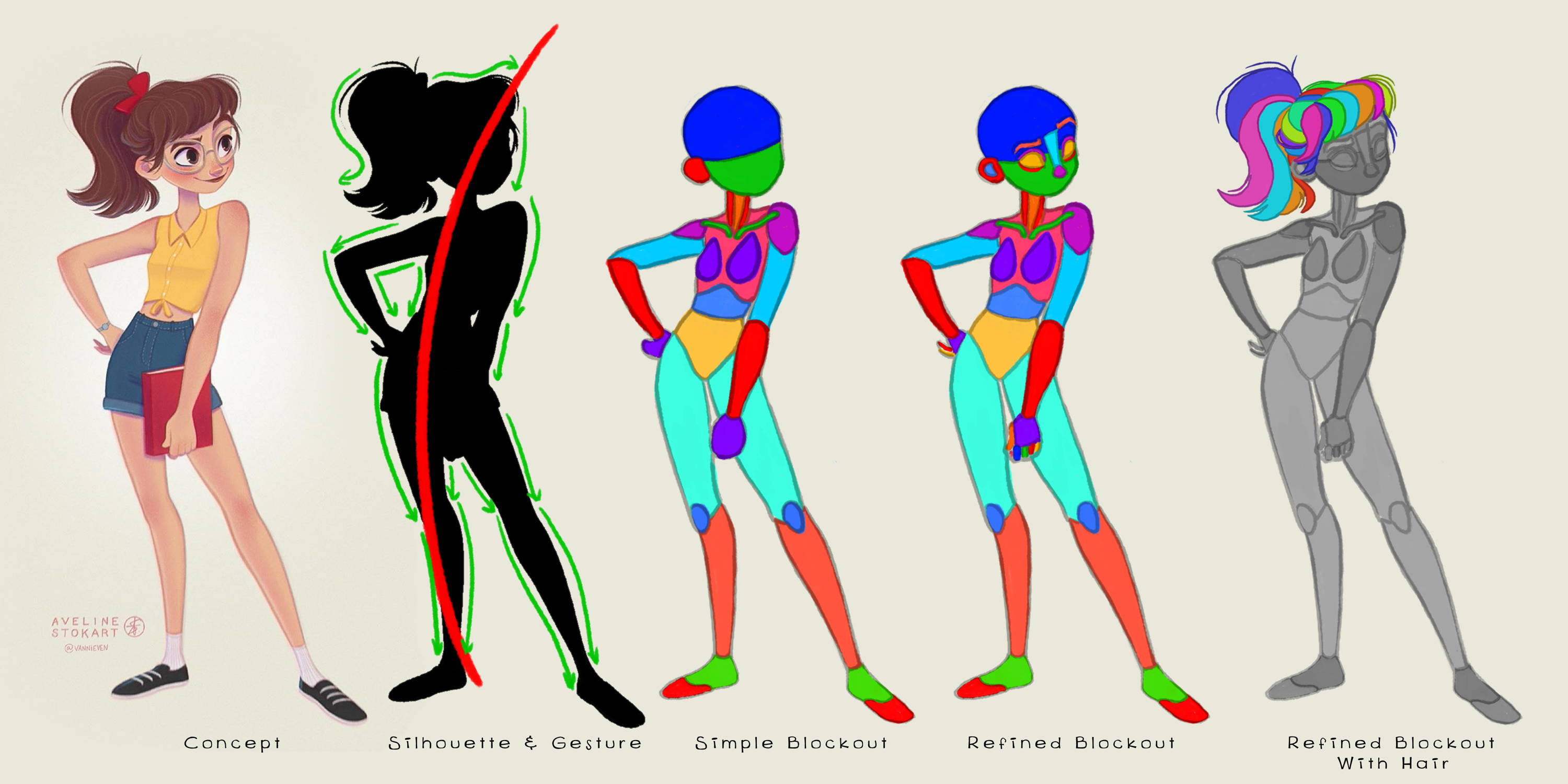 Chapter 1: Character design principles - Translating 2D to 3D with appeal

---
Character appeal and the uncanny valley

Silhouette and negative space

Shape language and contrast

Character construction and volumes

Proportions and exaggeration

Asymmetry and straights vs curves

Simple vs Complex and Smooth vs Sharp

Gesture, line of action and weight/balance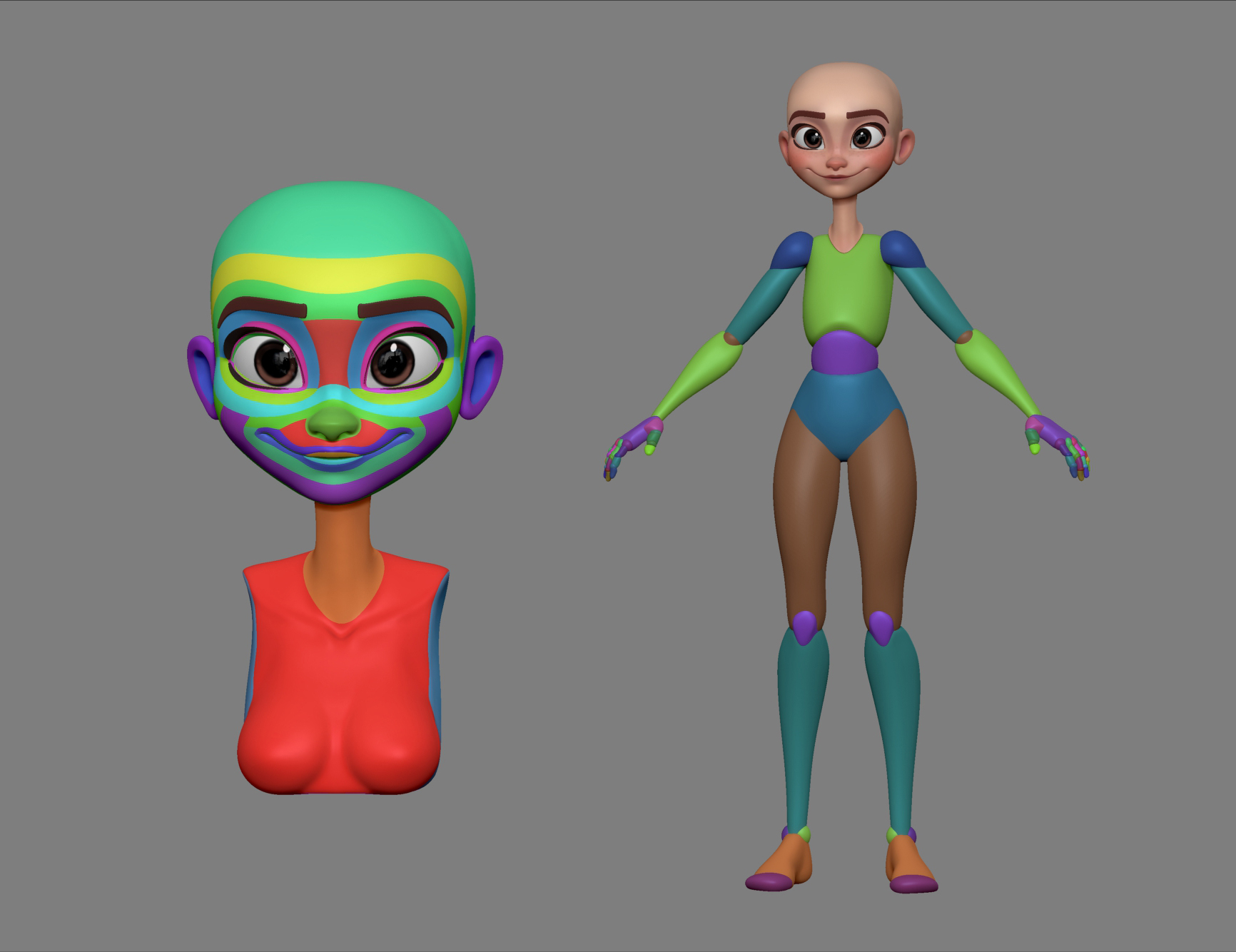 Chapter 2: 3D Character blockouts & stylized sculpting workflow

---
Blocking out a character in Zbrush

Importance of silhouette and shape language in 3D

Shapes hierarchy, proportions and straights vs curves in 3D

Using base meshes for efficiency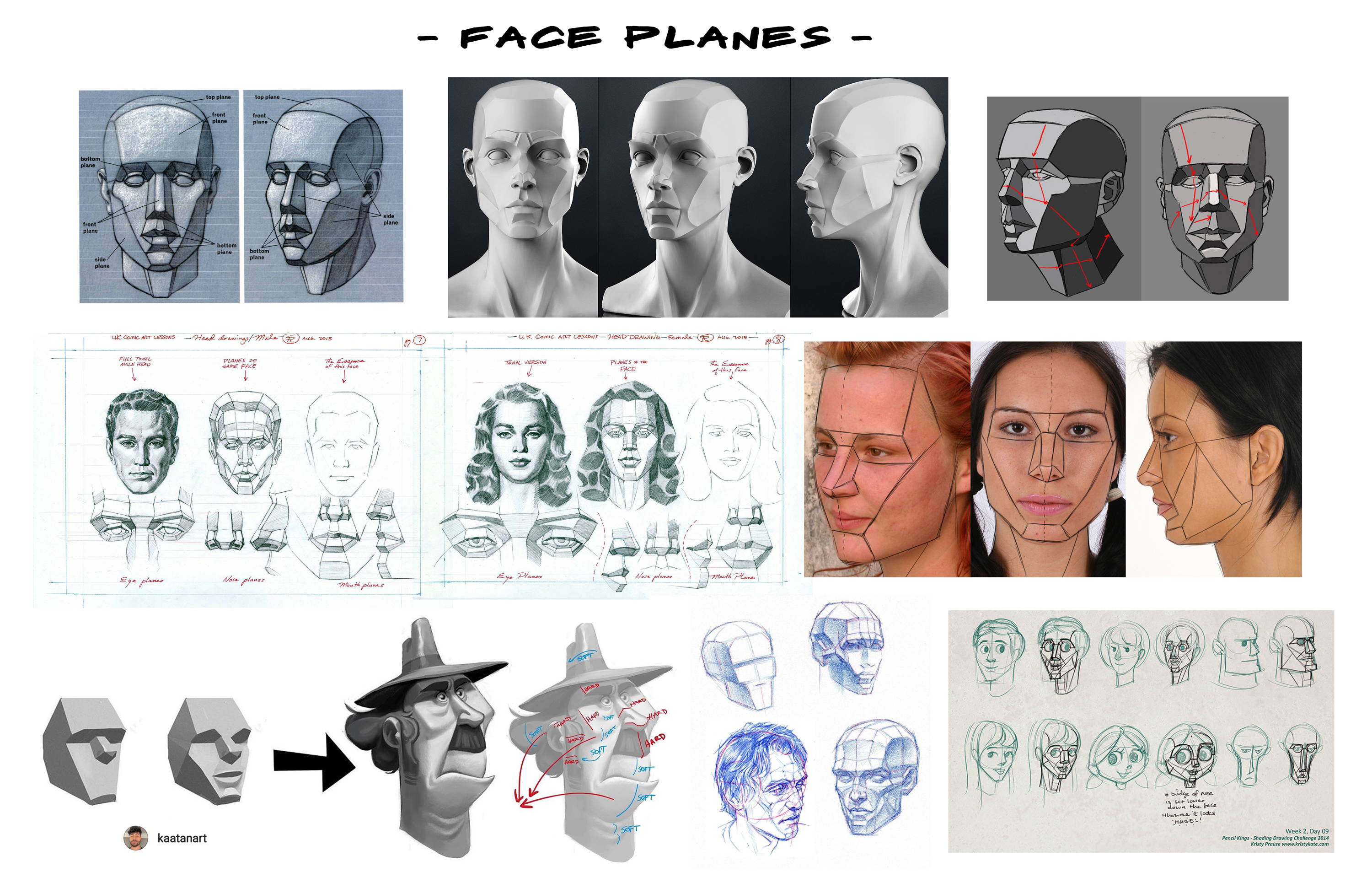 Chapter 3: Stylized anatomy & sculpting refinements

---
Stylizing and simplifying human anatomy

Planes of the human face and body

Important anatomy landmarks

Caricaturizing the face and body

Combining shapes and refining of the sculpt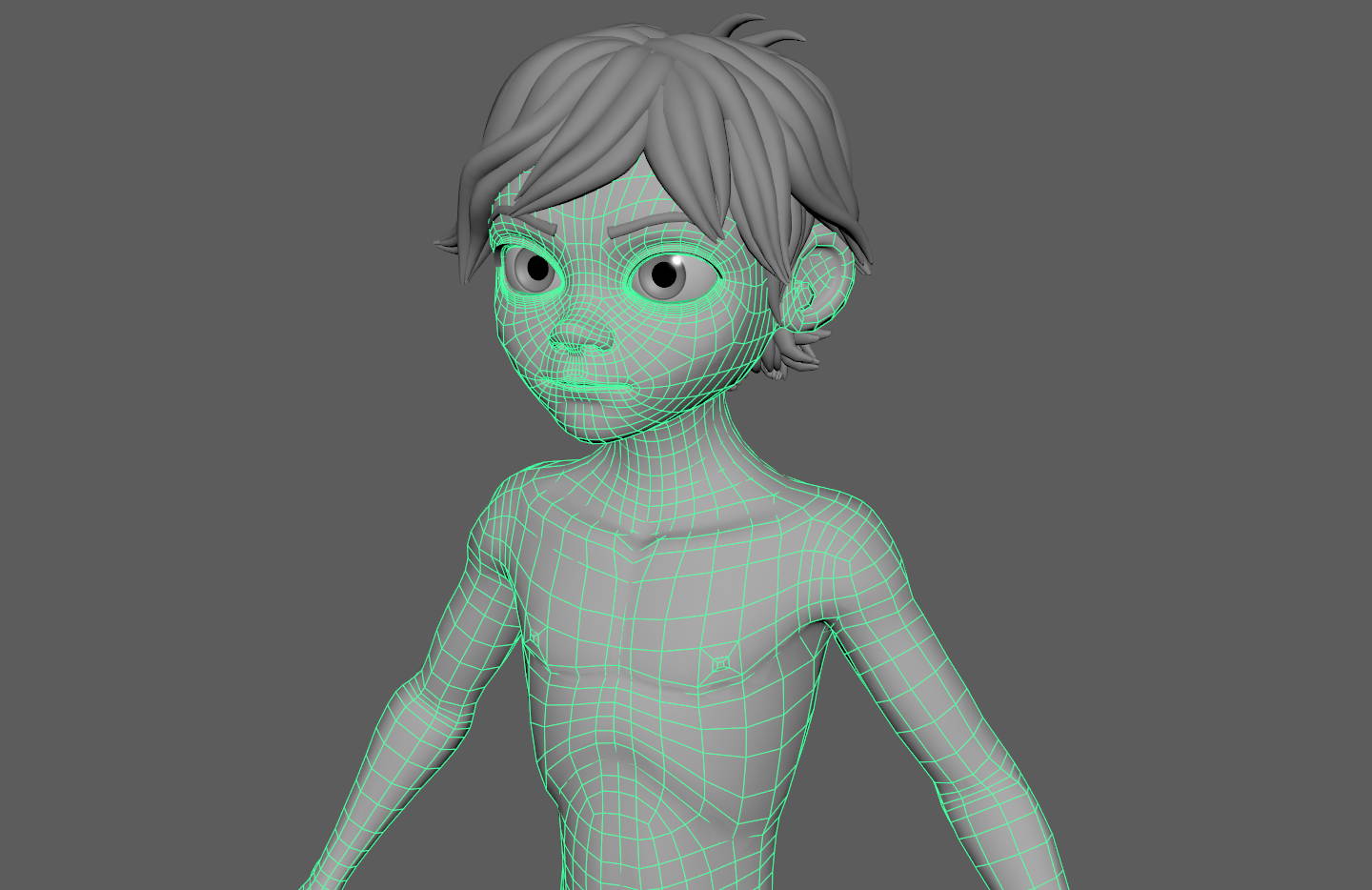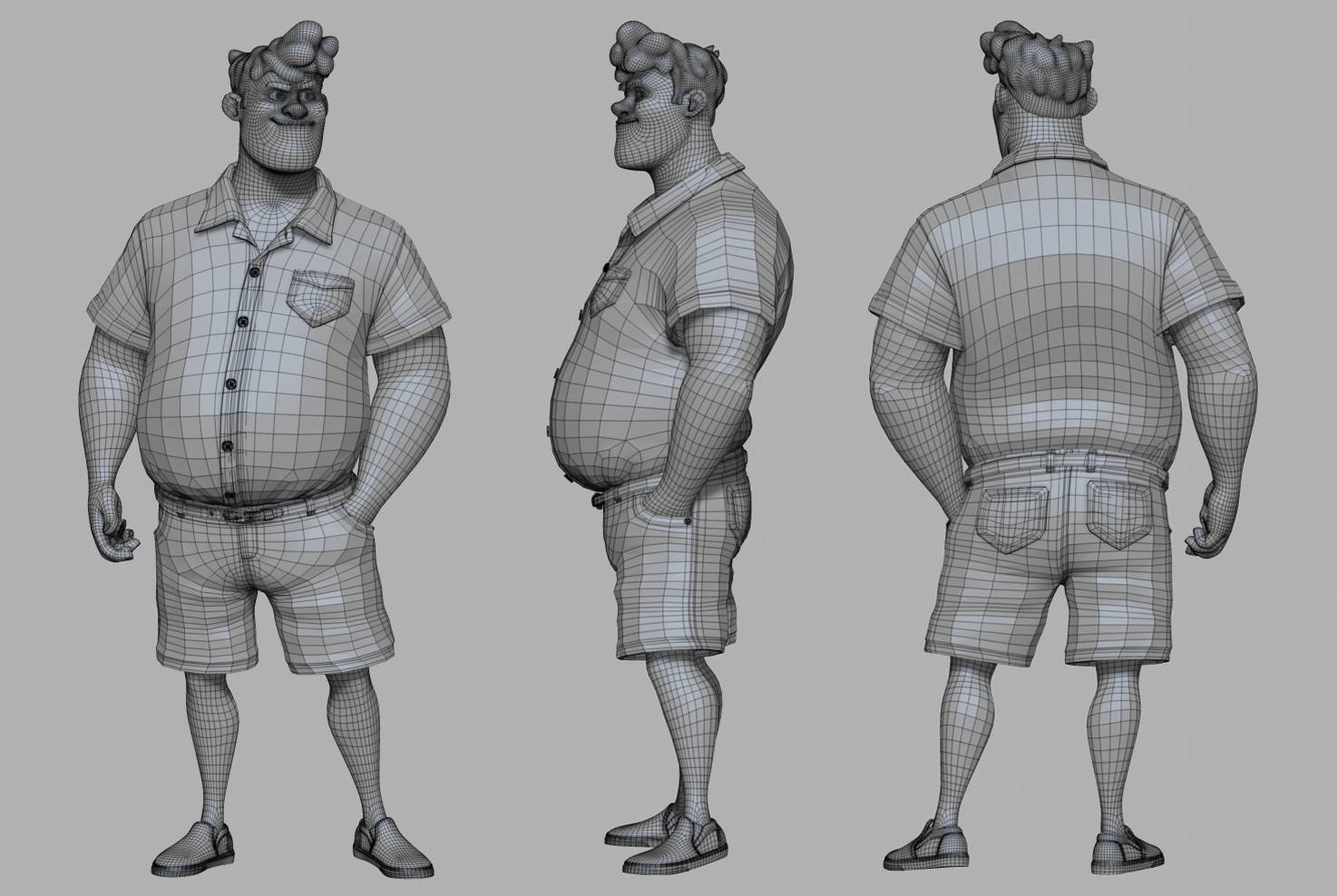 Chapter 4: Modeling, topology & UV layouts
---
Topology for rigging/animation vs sculpting

Retopology workflows

Hard surface, organic, props and clothes modeling

Creating UV layouts in Zbrush and Maya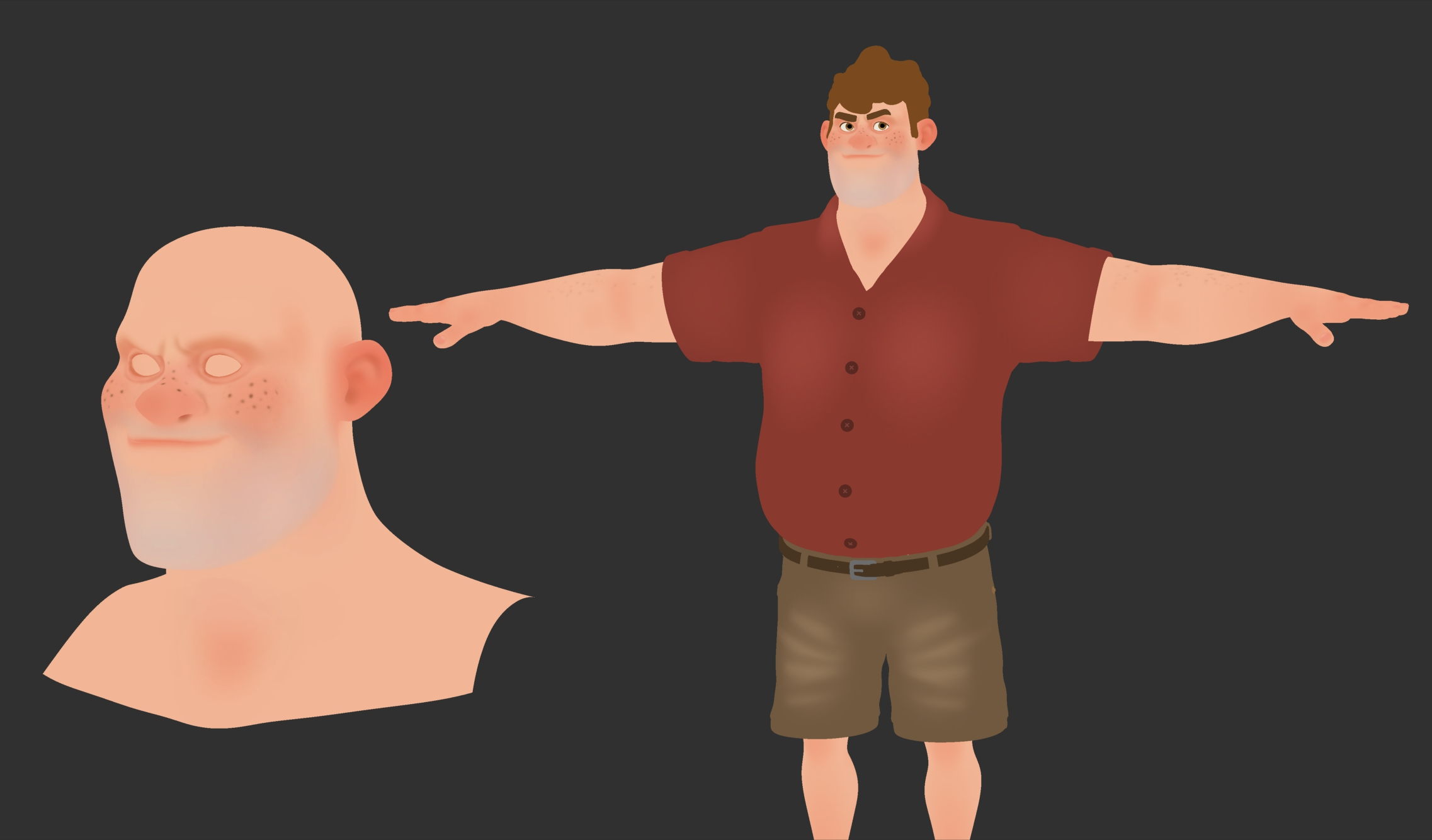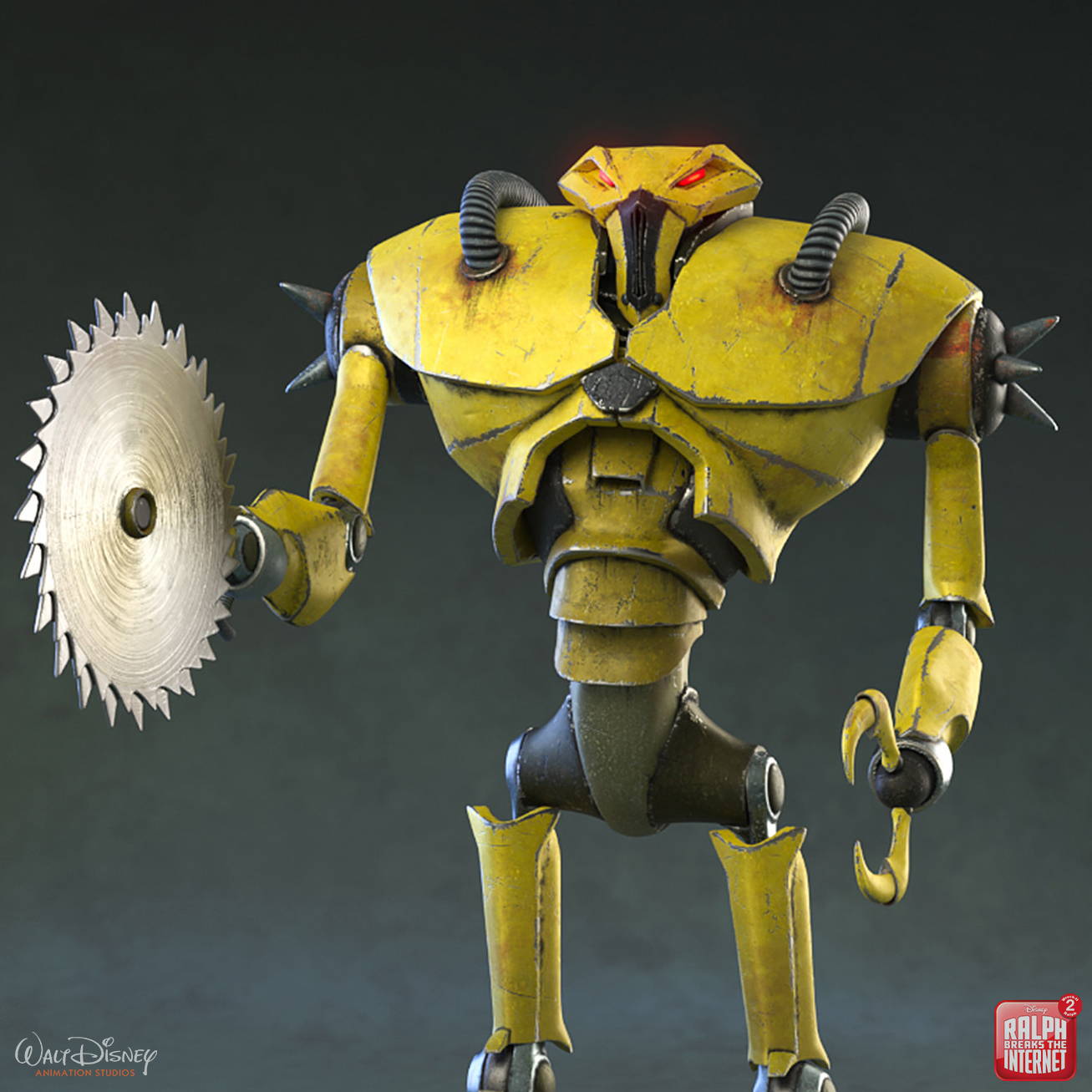 Chapter 5: Texture painting with Zbrush & Substance Painter

---
Overview of PBR (Physically Based Rendering) texturing workflow and required maps

Polypainting for albedo/diffuse maps and masks in Zbrush

PBR texturing for look development with Substance Painter

Exporting maps for rendering in Marmoset Toolbag and Arnold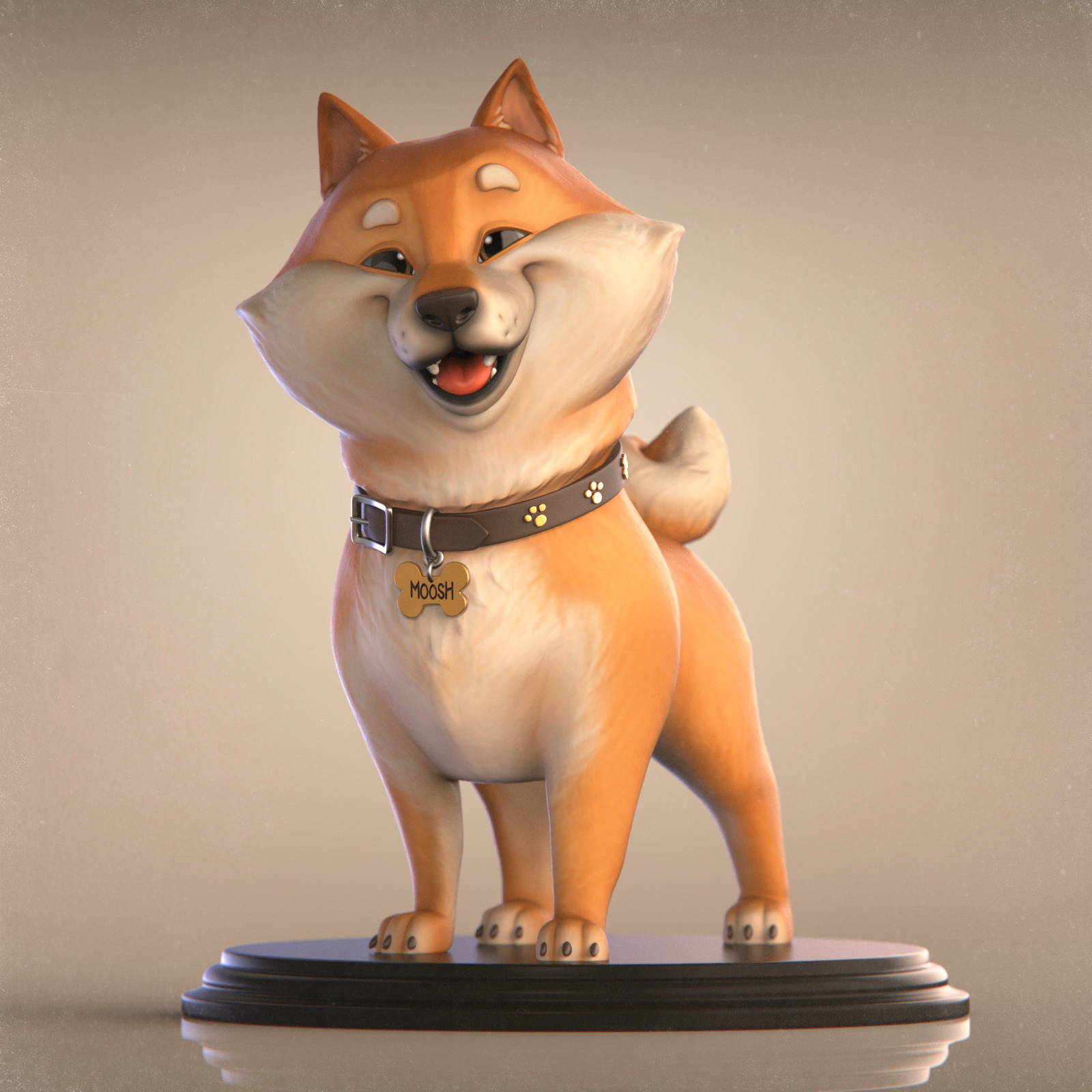 Chapter 6: Shading & lighting with Marmoset Toolbag

---
Zbrush to Marmoset workflow

Marmoset lighting setups

Creating shaders in Marmoset

Rendering, passes and compositing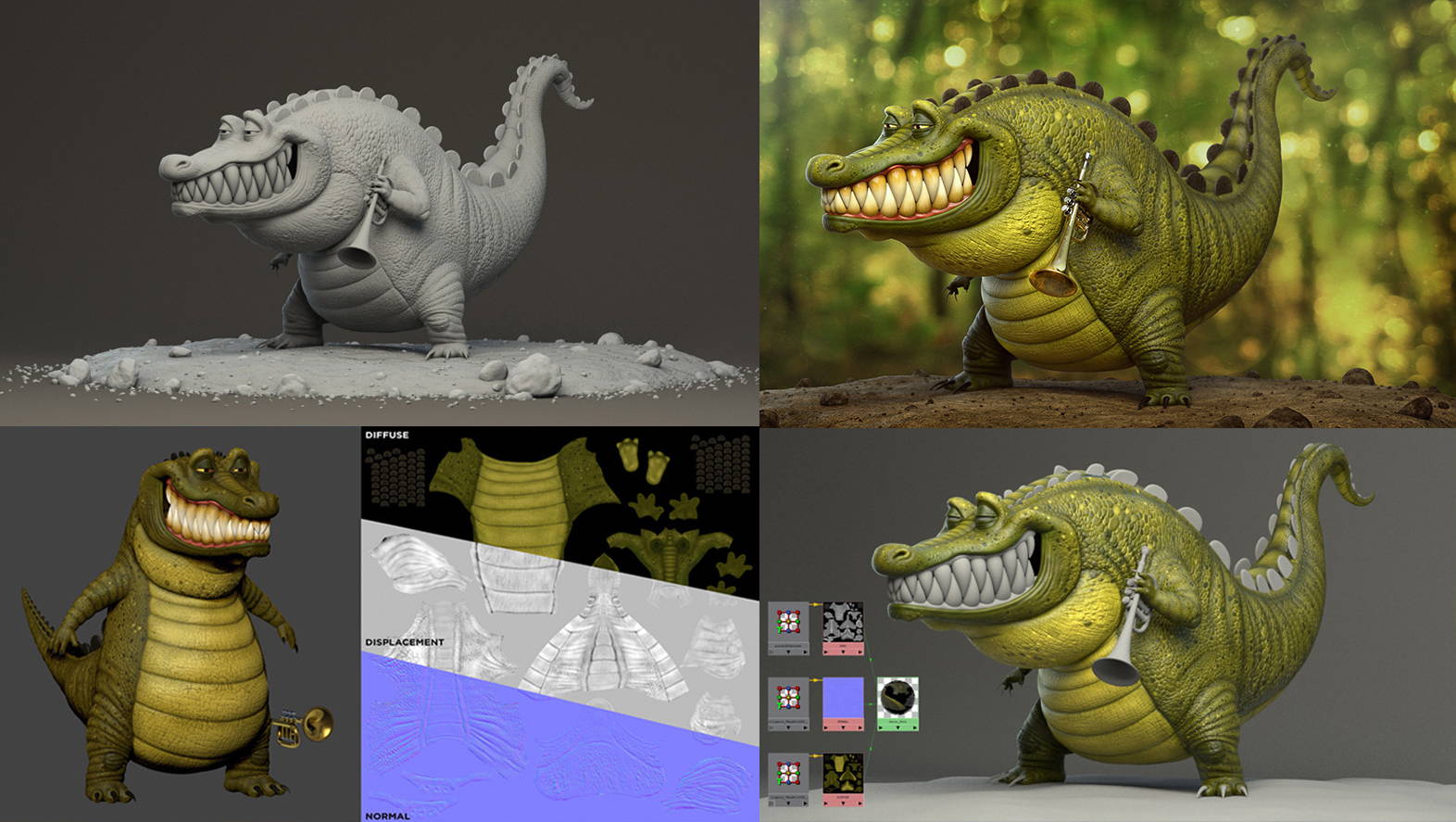 Chapter 7: Shading and lighting with Arnold for Maya

---
Lighting in Maya for Arnold

Shading workflows in Arnold

Arnold Render Settings

Rendering, passes and compositing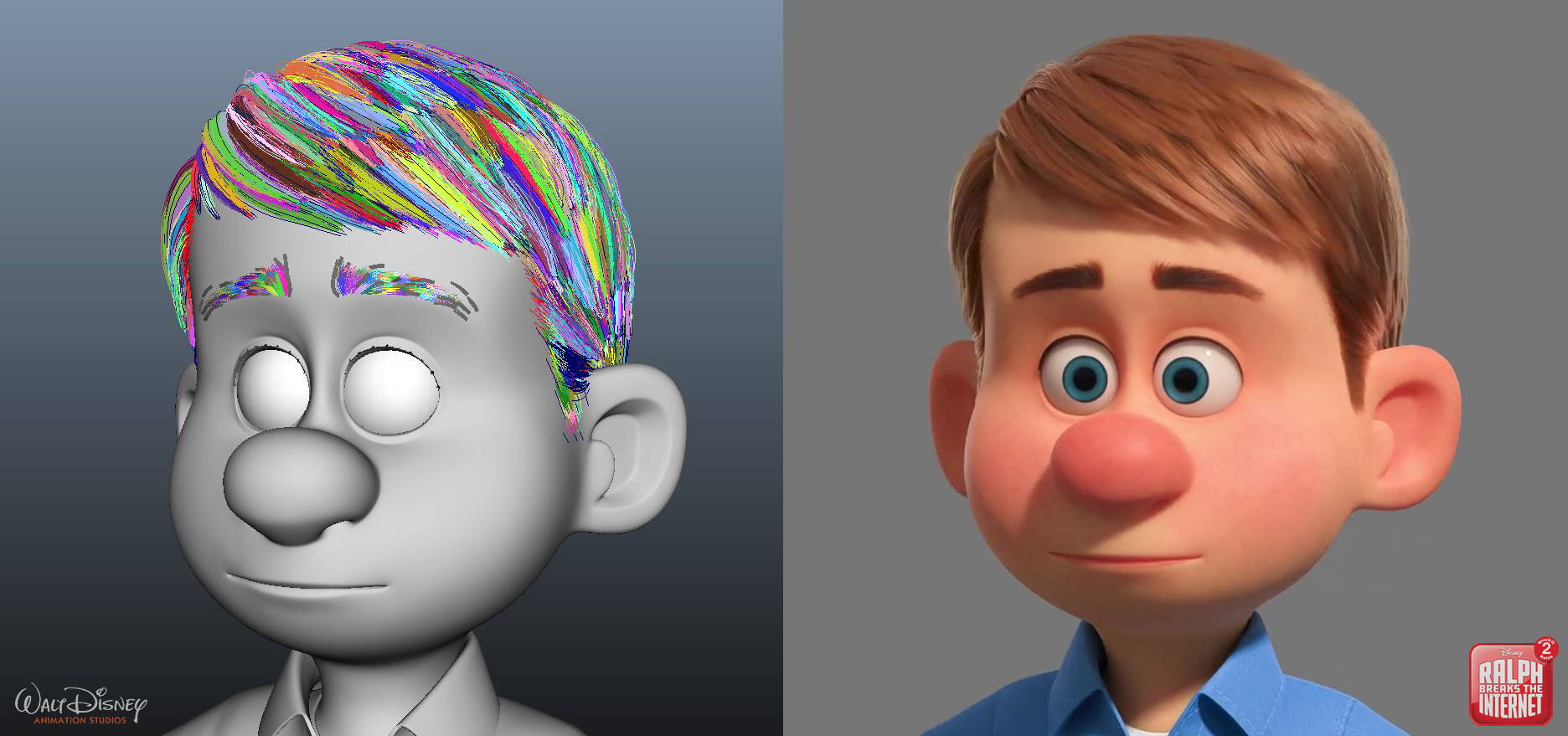 Chapter 8: Hair grooming basics with XGen for Maya

---
XGen interface and overview

Planning and breaking down hair grooms

Types of XGen descriptions

Tube grooming workflow

Curves grooming workflow

Hair textures and shading

Groom details and expressions
Bonus Chapter I: 3D Printing model prep and process

---
Planning for 3D printing

Model prep and scaling

Cutting and keying parts of the model for print

Setting up supports and hollowing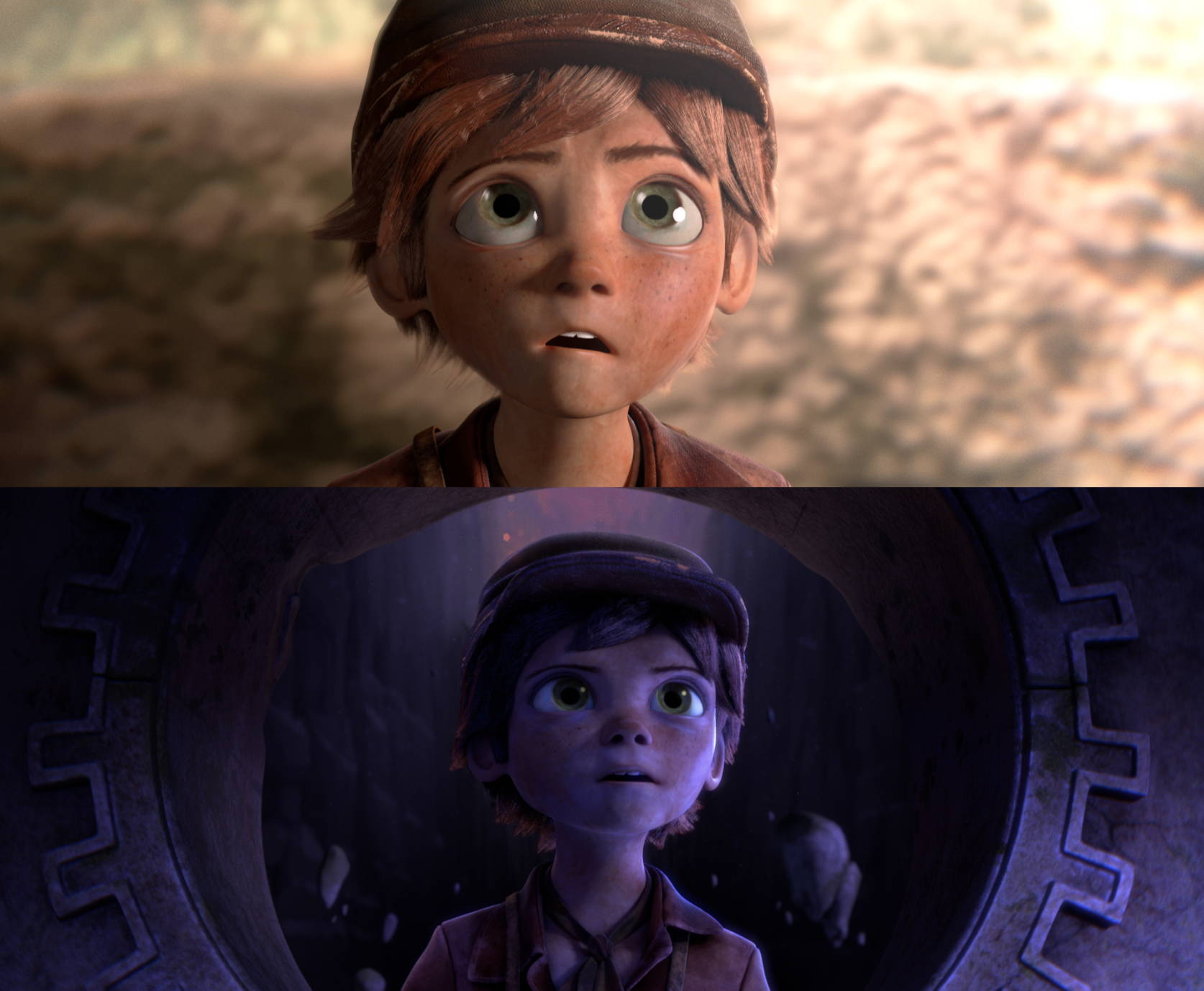 Bonus Chapter II: Industry advice & professional practices

---
General advice for beginning professional 3D artists

Getting started in the entertainment industry and types of careers

Social media and networking tips

Tips for emails, interviews and professional online presentation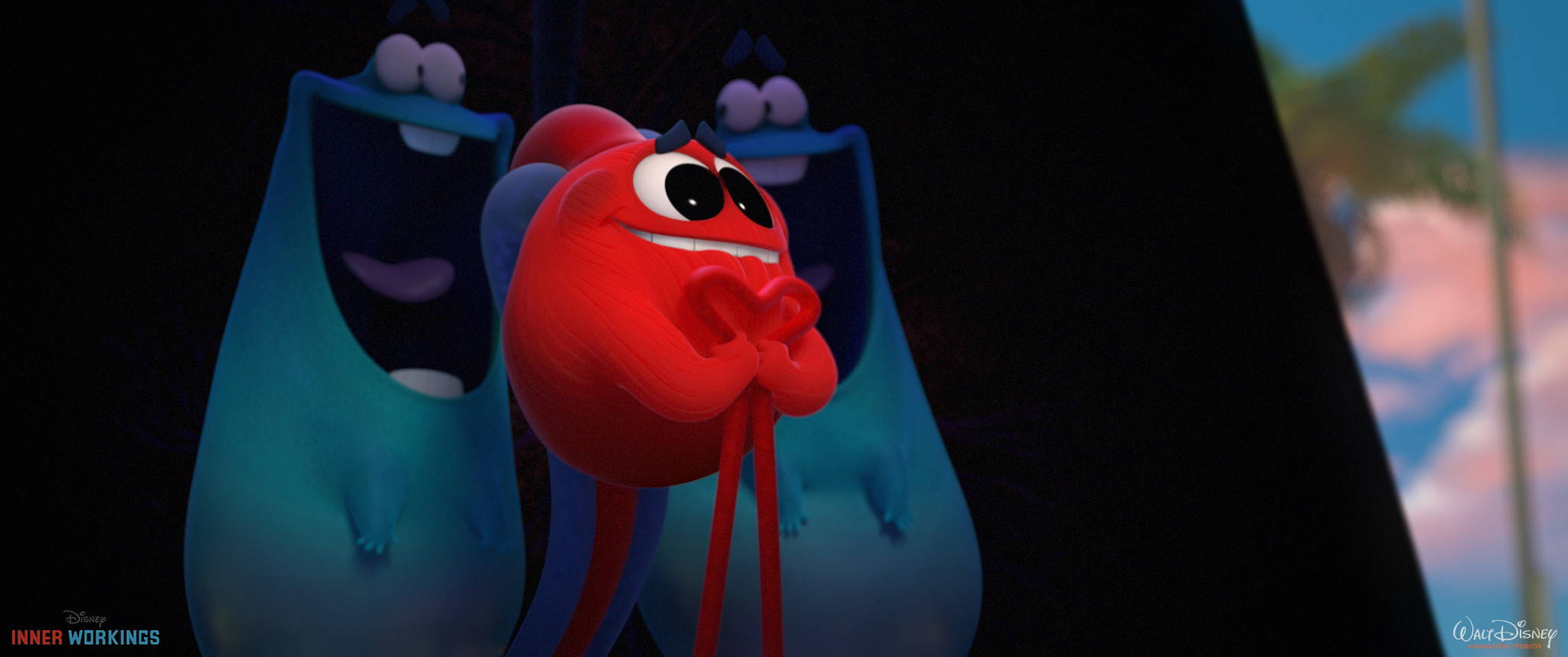 ---
Congratulations on Completing the Course

Thank you and farewell!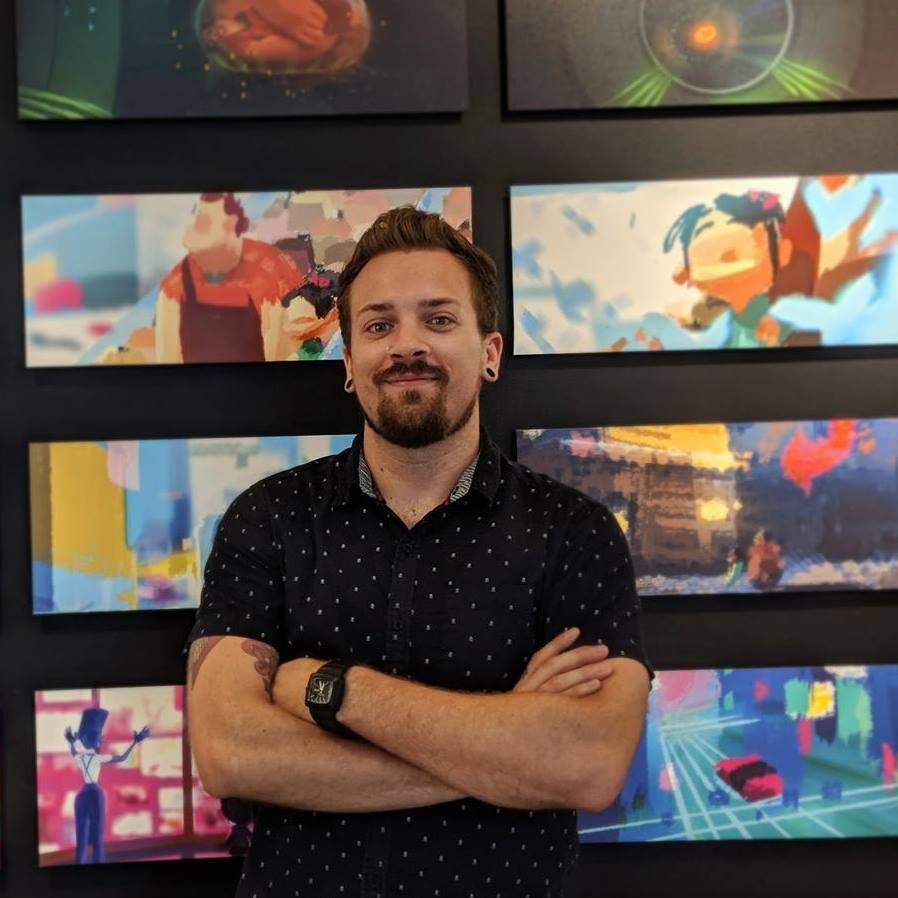 I'm Tyler, also known as Tyrassic. I am a 3D Character Artist currently working at Netflix Animation where I help bring characters to life on screen for upcoming animated features and series. I have been working in the entertainment industry for nearly a decade with studios like DreamWorks, Disney Animation, Nickelodeon, On Animation Studios, Wonderstorm/The Dragon Prince, Psyop, Gentle Giant and The Jim Henson Company among others. I've been a part of the entertainment industry with experience in film, television, video games, commercials and collectible toys since 2013 after graduating from Gnomon School of Visual Effects in Hollywood, CA.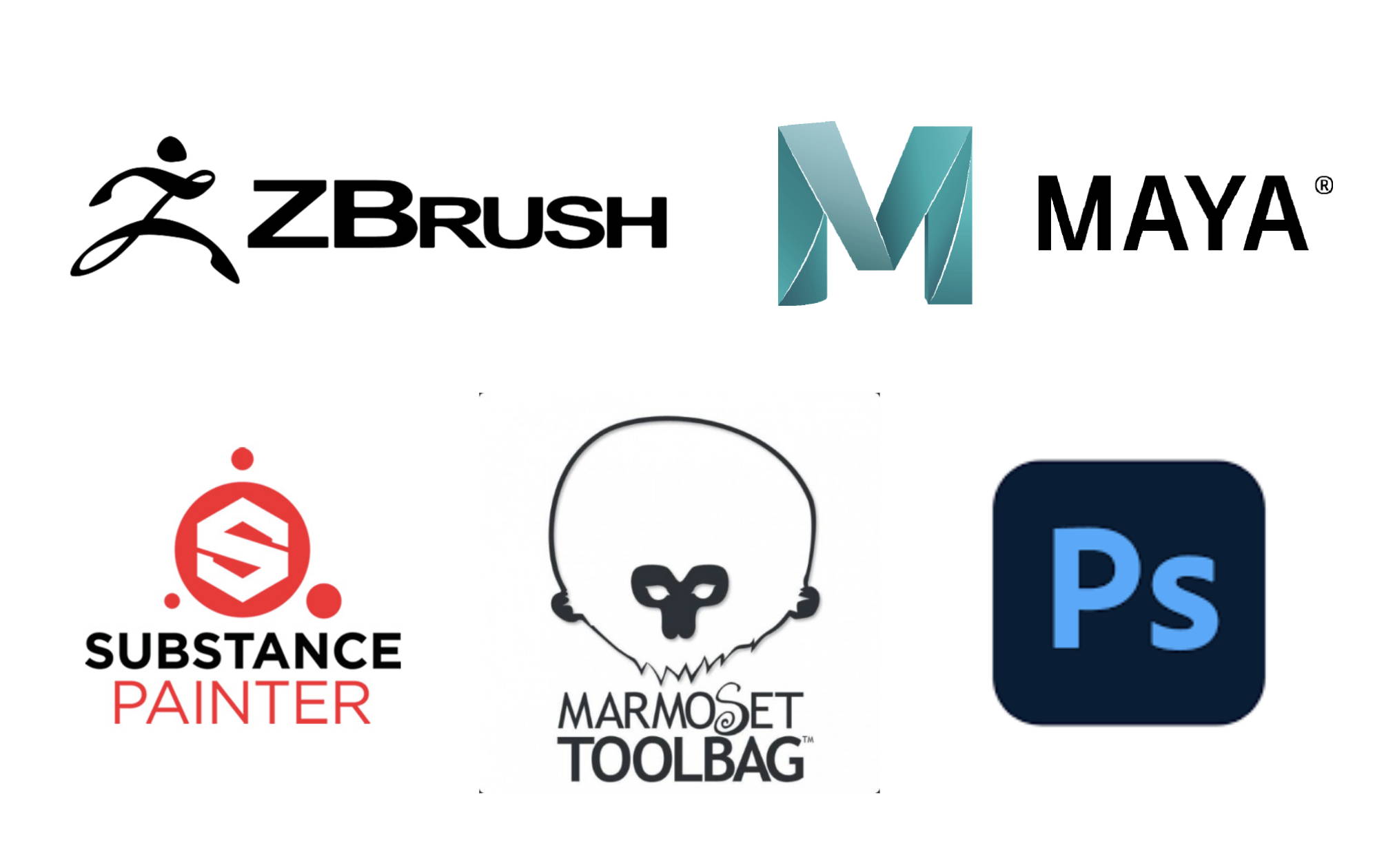 You will learn how to use Zbrush, Maya, Substance Painter, Marmoset Toolbag, and Photoshop

In order to take the course without problems, you must have it.

How to use the program is thoroughly explained in the class.
PLEASE NOTE: This class uses a Windows operating system. Keep in mind that other operating systems may have different keyboard operations, shortcuts, etc.

You can access the class videos for 32 weeks. Within that period, you can replay the videos in as many devices as you want.
This is an early bird class! That means the production of this class is just starting. The curriculum is subject to change, and content may be uploaded sequentially based on the creator's schedule to ensure that we provide the class in the best quality possible.
Earn points to Extend the Class Access
Receive points by completing chapter missions OR by taking the class two or more times a week. And use the points to extend your class access!
Once we pass the release date, we will no longer offered the class at "Super Early Bird". The rate will be raised after the date, right now is the cheapest deal you can get.
Quadpay is available for the payment! Your order will be split into 4 installments paid over 6 weeks! To find out more, please visit Quadpay.
We will need to download Zbrush, Maya, Substance Painter, Marmoset Toolbag, and Photoshop.
Class videos will be available by November 15th. We will notify you via email regarding how to access to the class videos on the release date.
You're all set!
Don't feel like waiting? Here are classes you can start today
Live what you love with CLASS101